Posted by: wendy May 7 2008, 05:56 PM
Source: http://www.libertytimes.com.tw/2008/new/ma...today-show9.htm
Translated by meosles@asianfanatics.net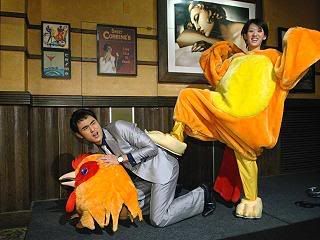 Chen Qiao En comical chicken act, GTV accuses it of plagiarizing manga

The ratings for TTV/SETTV idol drama "Fated To Love You" continue to rise. In last night's episode, Chen Qiao En and Ethan Ruan's "man-chicken romance" was exposed as being the same as the original manga of GTV's new idol drama "Extravagant Challenge" where the female lead dressed as a lucky animal. Yesterday GTV came out to lambast "Fated" of plagiarism.

Yesterday night in "Fated" Chen Qiao En dressed in a chicken suit and danced. She grabbed the chance to kick Ethan Ruan who often bullied her. This scene coincides with Japanese manga "Skip Beat" where the female lead Kyoko dressed as chicken in variety show. The storyline and the dressing are very similar.

SET claims to be original script, accuse GTV of slander even though they are doing adaption

GTV's vice president Lai Chong Bi said: "We are adapting from manga and is faithful to the original work. We won't break the principal of drama production." He also said the Japanese financers of "Extravagant" have already condemned the act of plagiarism. The drama team for "Fated" was opening champagne to celebrate the ratings victory when producer Chen Yu Shan heard the news of being accused of plagiarism. She was so angry she said: "They are adapting from manga. We are producing original scripts. Please respect original script all right?" She accuses GTV of slandering them in order to stir up news.