Posted by: Judie Apr 13 2012, 10:32 PM
Credit: http://www.allkpop.com/2012/04/still-cut-of-yoo-in-na-ji-hyun-woos-romantic-gwanghwamun-kiss-scene-revealed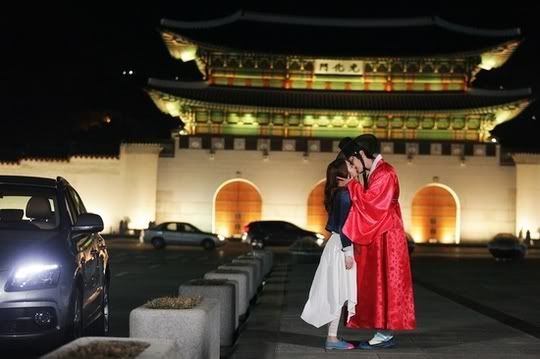 Still cut of Yoo In Na & Ji Hyun Woo's romantic Gwanghwamun kiss scene revealed

Actor Ji Hyun Woo and actress Yoo In Na filmed for a kiss scene at Seoul's Gwanghwamun!

During the new preview on April 9th for tvN's new Wednesday/Thursday drama, 'Queen Inhyun's Man', a kiss scene between Ji Hyun Woo and Yoo In Na caught the attention of many. Yoo In Na will play the role of Choi Hee Jin, who is as an actress who hasn't been able to obtain a serious role since her debut 5 years ago. She meets and forms a relationship with a scholar named Kim Boong Do (played by Ji Hyun Woo), who time traveled from the Chosun dynasty to the year 2012.

In the kiss scene, Ji Hyun Woo shows off his tall figure in hanbok, while the four-dimensional character played by Yoo In Na is dressed in a contemporary outfit.

One associate of the drama stated, "This romantic fantasy-drama will have more kiss scenes of the two actors besides the Gwanghwamun kiss".

'Queen Inhyun's Man', which will be first broadcast on April 18th, is produced by Kim Byung Soo, who has worked on 'ByulSunGum (Chosun Police)' and 'Vampire Prosecutor', and Song Jae Jung, who has worked on 'High Kick' and 'Coffee House'.