Posted by: Judie Mar 5 2012, 09:15 PM
Credit: http://www.soompi.com/news/love-rain-teaser-with-jang-geun-suk-and-yoona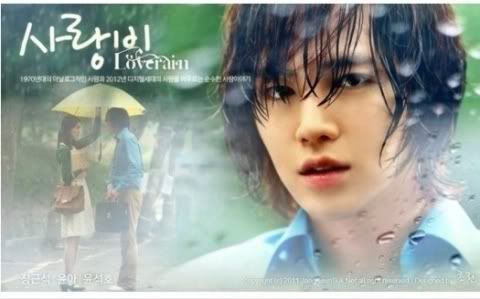 Love Rain teaser with Jang Geun Suk and YoonA

The second teaser video of upcoming KBS drama "Love Rain" was revealed today on March 5. Previously on March 2, the first teaser video featuring In Ha (played by Jang Geun Suk) and Yoon Hee (YoonA) walking together on the beach was released. In the revealed second teaser video, In Ha is drawing Yoon Hee, who is just outside of the window.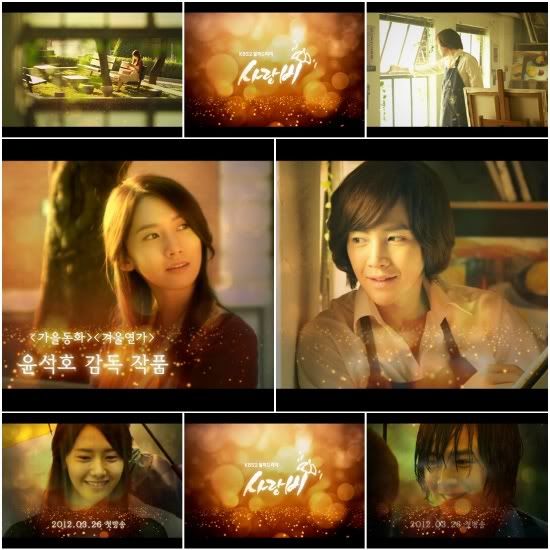 The video shows the thrilled, smitten, and fluttered feelings of a man newly falling in love. In Ha narrates, "My heart started beating like crazy" as the strong heartbeat sound conveys his feelings. In addition, the sound of sudden a rainfall followed by YoonA's narration, "It seems like love and rain have a lot in common" shows the strong sentiment of the upcoming drama.

The drama has received a lot of attention both at home and overseas for its stellar lineup, famous director, and popular screen writer. "Love Rain" stars hallyu star Jang Geun Suk and YoonA as its main leads and also includes "Super Star K"'s Seo In Gook, "Rival"'s Kim Si Hoo, "Spy Myung Wol"'s Son Eun Seo, and "Smile Mom"'s Hwang Bo Ra.

"Love Rain" is a melo-love story set in two different periods – the 1970s and 2012. Jang Geun Suk and YoonA play Seo In Ha and Kim Yoon Hee, two college students who fall in love with each other in the 1970s; unfortunately, these two do not get their happily ever after. Fast forward to the present, Seo Joon, In Ha's son (also played by Jang Geun Suk) meets and falls in love with Ha Na, Yoon Hee's daughter (also played by YoonA). Jang Geun Suk's 1970s Seo In Ha is a romantic arts student who is willing to lay down his life for the love of his life. His son Seo Joon, on the other hand, is a carefree photographer who enjoys a freewheeling lifestyle. YoonA's 1970s Kim Yoon Hee is a pure, elegant "campus goddess," while her daughter Ha Na is a bright and lovable character.

"Love Rain" has been drawing major public attention internationally and domestically even before the release of its teaser videos. An official from "Love Rain's" production company Yoon's Color commented, "We tried to show the tingling sensation of In Ha and Yoon Hee's first love in the 1970s through this teaser video. The sentimental video, music, and story will be portrayed even more beautifully in the show." The love story of Jang Geun Suk and YoonA in "Love Rain" will air on March 26 at 9:55pm KST.

Check out the 2 teaser videos of "Love Rain" featuring Jang Geun Suk and YoonA below!