Posted by: Judie Feb 19 2012, 11:44 AM
Source: MyDaily
Credit: http://www.allkpop.com/2012/02/lee-seung-gi-to-schedule-a-meeting-with-miracle-child-cho-eunseo




Lee Seung Gi to schedule a meeting with 'Miracle Child' Cho Eunseo

Top star Lee Seung Gi responded to the wishes of 'Miracle Child' Cho Eunseo.

'Miracle Child' Cho Eunseo is a 7 year old girl and the first person in Korea to receive seven internal organ transplants. According to Chogan Newspaper on February 17th, Eunseo was born with a rare condition that prevented her stomach, small & large intestines from digesting food. Until now, she regurgitated any food she tried to eat, and therefore has maintained the past seven years of her life by receiving nutritional supplement shots. But last October, a six year old suffering from brain cancer donated 7 internal organs to Eunseo, and after a meticulous yet successful 9-hour surgery, she can now live a normal life.

The surgery was completed by Kim Dae Hyun and the team at ASAN Medical Center, and they transplanted seven organs including a liver, pancreas, stomach, small intestines, duodenum, spleen and large intestines, allowing Eunseo to finally comfortably eat and digest food. The news of this miracle was reported on February 16th.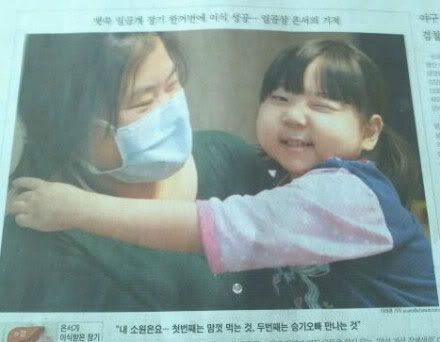 According to the media, Eunseo remarked that it was her dream to "eat galbi, burgers, and snacks to her heart's desire", along with "meeting Lee Seung Gi oppa."

In response to her wishes, Lee Seung Gi's representatives remarked, "Lee Seung Gi is eager to meet Eunseo after hearing that she wanted to see him. He is thankful that she is doing much better, and will schedule a day to meet her according to her current health condition and recovery process. He wishes that she will recover soon, and wants to meet her as soon as possible."

Hopefully Eunseo recovers soon and is able to enjoy a normal life.