Posted by: wendy Oct 31 2011, 10:54 PM
Source: http://news.nate.com/view/20111101n00177
Credit: http://www.allkpop.com/2011/10/eunhyuk-reveals-super-juniors-experiences-with-zhang-ziyi-jackie-chan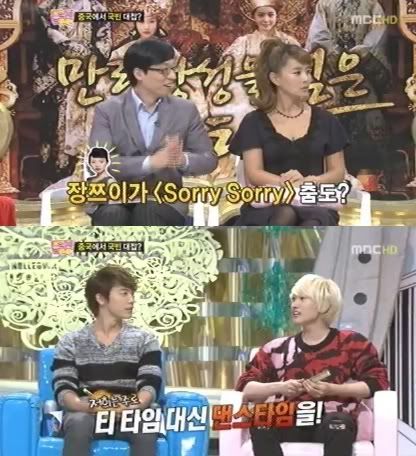 Eunhyuk reveals Super Junior's experiences with Zhang Ziyi & Jackie Chan

On a recent broadcast of 'Come to Play', Super Junior's Eunhyuk revealed that the boy band had a memorable experience meeting internationally renowned Chinese actor Jackie Chan and actress Zhang Ziyi.

Eunhyuk surprised the guests and hosts on the show after telling them, "We've eaten a meal with Zhang Ziyi before. Before we ate, Zhang Ziyi danced the choreography for 'Sorry Sorry'."

He went on, "During the Beijing Olympics, we were doing a concert on the main stadium stage, and Jackie Chan, who personally invited us to a charity event, stated, 'We are friends'."

Super Junior's Donghae, Lee Jung Hyun, and Jang Suhee appeared as guests on the same episode.