Posted by: wendy May 2 2011, 10:20 PM
Source: http://news.naver.com/main/read.nhn?mode=LSD&mid=sec&sid1=106&oid=076&aid=0002104371
Credit: http://www.allkpop.com/2011/05/cnblues-yonghwa-gifts-his-guitar-to-spinel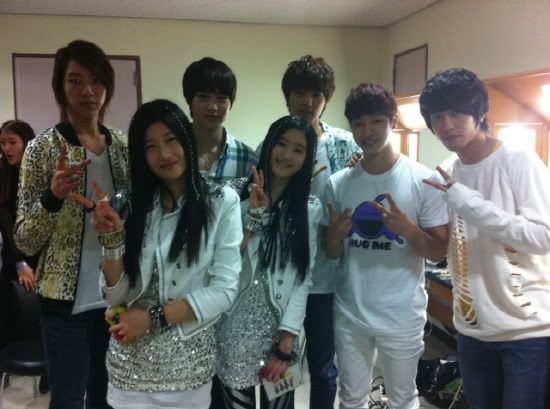 CNBLUE's Yonghwa gifts his guitar to SpinEL

On May 1st, CNBLUE's leader Yonghwa was reported to have personally gifted his own guitar to rookie acoustic girl group, SpinEL.

The girls received the special gift backstage of SBS's "Inkigayo" yesterday, and expressed their joy by stating, "It's such an honor to be able to even see him up close like this. We're honestly so overjoyed that he watched over our stage and even gifted his own guitar."

As reported earlier, SpinEL is comprised of two junior high school friends born in 1996. With country music as their base, the two girls hope to pursue a variety of genres of music with their future promotions. The girls are currently promoting their debut track, "ChuChu."



This girl group team is comprised of two members, SPIN and EL, both of whom were born in 1996. SPIN is the vice president of her class and first began featuring for other artists since 2003. EL used to be a child actress and starred in a variety of movies, dramas, and mucicals.

While SpinEL is a combination of their name, it is also the name of a jewel. Like their name, the girls hope to become a shiny jewel in the Korean music industry.

Representatives of SpinEL stated, "The public is thirsty for talented and real music, as exemplified by the hits of C'est Si Bon and MBC's 'I Am A Singer.' SpinEL has that same girl group charm, but with also a musical style that will satisfy listeners."

The girls debuted on SBS's "Inkigayo" by performing with their guitars on air.