Posted by: wendy Jan 15 2011, 11:52 AM
Source: http://news.nate.com/view/20110113n17361
Credit: http://www.allkpop.com/2011/01/which-of-your-favorite-stars-auditioned-for-jype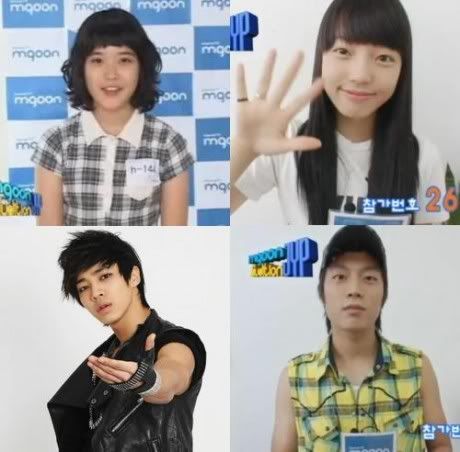 Which of your favorite stars auditioned for JYPE?

Many of today's top celebrities either trained at JYP Entertainment (JYPE) or failed to pass JYPE's auditions.

Last April, 3-high note vocalist IU's audition video became a hot topic. In the video clip of IU's 2008 JYPE audition, IU sang Bubble Sisters' "그렇게 사랑하고 그렇게 웃었습니다 / Loved Like That, Laughed Like That" but unfortunately failed to move on to the next round of the audition.

Recently, IU was able to work with producer Park Jin Young for their KBS2TV drama "Dream High" OST. IU expressed, "It was my first time recording an OST and I am proud to have been able to record with a CEO of a company that I auditioned for."



Additionally, 20-year old KARA's Goo Hara also has experience participating in JYPE's auditions. In fact, she auditioned right after IU at the 2008 JYPE audition. It was revealed that after she suffered a defeat at the finals, she was chosen to be in her current agency, DSP Entertainment.

Recently, Goo Hara was awarded the "Show/Variety" runner-up award at the "2010 KBS Entertainment Awards" and has been busy doing Japanese promotions with KARA.



On the other hand, B2ST's Lee Kikwang and Yoon Doojoon are known for having been JYP trainees. Recently, Park Jin Young visited KBS2TV's "Win Win" and revealed why Kikwang didn't debut under JYPE. He said, "Ki Kwang was outstanding in both singing and dancing, and the reason why he didn't debut was because he knew this fact himself." As for Doojoon, he was cut at the final elimination round on Mnet's pre-debut documentary of the Oneday members called, "Hot Blood." Both transfered into former JYPE representative Hong Seung Sung's Cube Entertainment, where Kikwang first debuted solo as AJ and later debuted with Doojoon in B2ST.

Currently, B2ST has been preparing for their upcoming encore concert of their successful first concert from last December. Unfortunately, Kikwang's audition clip has not been revealed, but since Doojoon auditioned at the same audition as IU and Goo Hara, his audition clip was made public prior to his debut.



Lastly, as a bonus for JYP Entertainment fans, here's 2PM Wooyoung's audition clip. Apparently, IU, Goo Hara, Doojoon, and Wooyoung all auditioned at the 2008 JYPE mgoon Audition. While the first three were eventually eliminated, Wooyoung came out on top in the final round of this audition.



So do you think Park Jin Young regrets having rejected some of today's hottest stars back in years past?