Posted by: wendy Jan 31 2010, 02:05 AM
Source: http://udn.com/NEWS/ENTERTAINMENT/ENT1/5396615.shtml
Translated by: tdrama*addict @ asianfanatics.net
Minor edits by: wendy @ http://asianuniverse.net/forums/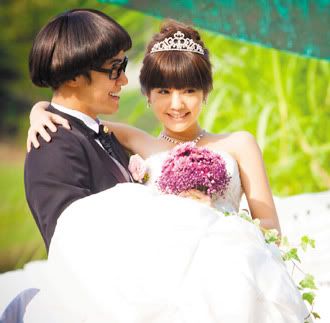 Ending of "Hi My Sweetheart", Xiao Zhu fulfills marrying Rainie Yang

Producer Angie Cai produced over 20 idol dramas, this is the first time that she had a wedding as the finale wrap up. Tomorrow on CTS "Hi My Sweetheart" will air a 45 minute version having Xiao Zhu fulfilling wishes of marrying Rainie. In order to calm the prior complaints about shortening of the drama, the vice president of CTS yesterday not only gave out a monetary prize to Angie for having 1,000,000 viewer, but also gave out 2 gold medals with a total worth of $32,000TWD to Xiao Zhu and Rainie with the inscription: "鎮台之寶" (which basically means that they guarantee good ratings).

Xiao Zhu and Rainie however did not show up yesterday, CTS expressed there wasn't enough time to inform them. Xiao Zhu had previously publicly exclaimed, "It could of definitely aired to February, but it ended early!" Angie Cai had just returned to Taiwan from Seoul, in regards to "HMS" clearly having good ratings but still had to finish airing prior to schedule, having many years of friendship with CTS, she reluctantly accepted but said, "I treasure more about how the artists feel."

CTS drama center director once again explained, "The ratings were very high, how could we cut short of the film? There were some fans that recorded the film with the cell phones during the film testing. However, we further adjust and edit the film during the actual broadcast, just as some internet users say Rainie's scenes in HangZhou, could have only lost about 3 seconds of screentime."

Tomorrow night will be broadcasting Xiao Zhu and Rainie's wedding scene, but at the time of filming with the "Da Lang mushroom head", along with a stylish black suit marrying Rainie, it looks weird no matter how you look at it. At that day he had to stand by Riverside Park, there were some older men passing by early in the morning but no one had recognized him.