Posted by: wendy Jan 26 2010, 07:15 AM
Source: http://udn.com/NEWS/ENTERTAINMENT/ENT6/5385266.shtml
Translated by catalie @ http://asianfanatics.net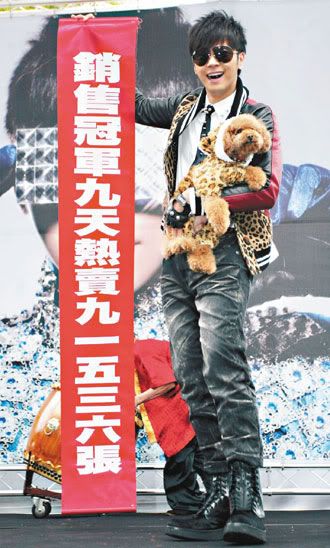 Xiao Zhu loves his fans; 12 hour marathon signing

Show Luo has just released his new album and with the power of idol drama "Hi My Sweetheart", sales have surpassed 90,000 copies merely two weeks after the album's release. Yesterday his autosession at Hsi Men Ding attracted the support of thousands of fans; there was an extremely long queue of fans, including a married woman who liked Xiao Zhu's character "Xue Hai" from "Hi My Sweetheart" and directly gave 3000 copies of the album to workers. Signing went late into the night and workers said to Xiao Zhu, "In the future, besides supper, you might have to buy us breakfast too!"

Many KKBOX stages held award ceremonies yesterday and Xiao Zhu had been invited but lately, he has held 2 autosessions in Taichung and Taoyuan, signing almost 10,000 albums in total. Furthermore, the day before yesterday, he had to work until 1:30am in order to complete his 12-hour "Self-torturous marathon signing event". Worried that he might not make it in time for the ceremony, Xiao Zhu chose not to go, "Although the ceremony is important, fans are even more important."