Posted by: wendy Feb 21 2009, 11:50 PM
Source: China Times
Translation: Sarah @ http://asianfanatics.net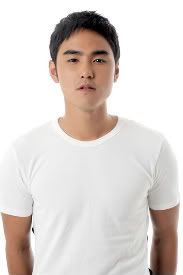 Ethan Ruan & Tiffany Hsu appear to be living together

Ethan Ruan & girlfriend Tiffany Hsu have a sweet relationship. This week's <Time's Weekly> continuously spotted Tiffany heading to Ethan's home after finishing work, not only does she have a spare key, she will often change clothes; seems like she has become the female master.

Love fever; do not bear to separate

Last month on the 21st, Tiffany was spotted at Ethan's work place waiting for him to finish work. Afterwards, he drove her to his home in his new Audi S3. Tiffany got off first, got out a key from her bag and entered Ethan's house. The next day, in the afternoon, she stepped out of his house and her clothes had changed. The same night, she again returned to his house, and did not see her leave even past midnight.

Tiffany's mum cares but won't interfere

The 2 appear to be living together and Tiffany's mum is not opposed to the idea. Friends revealed that Tiffany's mum adopts an American method in educating her daughter and has a free attitude towards relationships. She cares but won't interfere, plus Ethan has a sweet mouth and has good fate with adults, and is often the peacemaker between Tiffany and her.

Ethan seems to be doing well in both relationships and career. Earlier, he flew to Beijing to attend the Baidu Entertainment Search Awards, and won 'Most Popular Idol Actor' for <Fated To Love You> and Joe Chen also won 'Most Popular Idol Actress'. She came together with rumoured boyfriend Ming Dao. This year, Ming Dao has 4 dramas waiting to broadcast in both mainland China and Taiwan, and in March, he will film a movie with China movie King - Xia Yu; his popularity is also red-hot.

http://smg.photobucket.com/albums/v113/tam12/AEU2009/?action=view&current=1b6dfd26.jpghttp://smg.photobucket.com/albums/v113/tam12/AEU2009/?action=view&current=2deac2dd.jpg

- - - - - - - - - - - - - - - - - - - - - - -
O.o I thought it was already known a while ago that they live together....?
Yes, Tiffany played the supporting female in ISWAK I & II, and yes, she is half Italian.