Posted by: wendy Jan 23 2009, 11:02 PM
Source: http://www.pts.org.tw/php/newsletter/view.php?NAENO=1&NEENO=1851&SEARCH=&LISTALL=1
Translated by: Sarah @ http://asianfanatics.net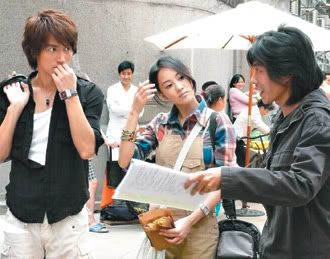 'No. 1 Brother' Jerry Yan becomes 'No. 1 Sister'; Director Lin uses slippers to control Terri & force her to quit drinking

The much-anticipated drama 'Starlit' will finally air tonight on PTS. During filming, because of Terri Kwan's straightforward personality and big voice, the staff member called her 'No. 1 Brother' and in contrast, Terri called the quiet and introverted personality Jerry Yan 'No. 1 Sister.' The 2 – one hot and one cold suddenly being brought together, when met Director Lin, suddenly went completely silent, and you can only hear Director Lin's yelling. Jerry said: "Director Lin's scolding makes her acting better and better, if her acting in this drama gets good critique, then she will definitely have to thank Director Lin's 'three character classic!" In order to repay Director Lin for rescuing her out of Taiwan, 'No 1. Brother' Terri was willing to endure any hardships. Besides her falling, crying, ugly scenes, she also trained her eyes – while acting, she would use the corners of her eyes to tell when Director Lin's blue-and-white slippers were about to get thrown at her!

Most of the scenes in 'Starlit' were filmed in Shanghai, however because Jerry had gum inflammation, he developed cellulitis and hence he was late to report to the crew. Because his scenes were all very strong, and he had a toothache, his appetite became very poor, and he lost 3kg in a short time. During the beginning of filming, Jerry expressed: "My gums were really still swollen! But Director Lin would give vitamins to me, and constantly remind me not to read the script till too late into the night, and remember to get some rest so I can get better soon!" During filming, the 2 would also constantly discuss the script, although it looks seemingly calm, their relationship was not like Director Lin and Terri's where it requires a lot of actions; Director Lin would completely toss aside his friendly face for Jerry, and use 'three character classic' to yell at Terri, and in the end, he would often carry Terri and run away. During filming, when the weather became colder, everyone would eat more food, and Jerry laughed saying: "The more Terri is carried, the heavier she's getting!" But Jerry, who had suffered a lot already, was actually getting more excited as filming went on, he revealed in private: "Everyday when I get up, I would bring a a happy mood and prepare to get yelled at by the director, sometimes when I don't see him yelling, I would find it weird!"

Actually, since Terri and Director Lin's last collaboration, Terri's mood became very low, and when her last drama finished filming, she had a big talk with Director Lin for 4 hours, and the 2 developed a lot of mutual understanding. And when 'Starlit' was choosing roles, at the time there was a lot going on, but Director Lin only said one sentence to Terri: "Come, let's go for a walk in Shanghai," and then telling her he wanted her to take-up the female lead in this drama. Hence, to repay him, during filming, Director Lin issued a no drinking rule, and Terri really didn't drink at all. But Terri described herself: "Sometimes, I can't help but go a bit crazy, but then Director Lin would throw his blue-and-white slippers at me, and I would be a good girl and go back to the personality of the female lead."

Director Lin's blue-and-white slippers became the potent weapon to control Terri! And compared with Director Lin's yelling at Jerry, Terri was not afraid to say: "6-word classic, 8-word classic, and even 16-word, he can just blurt it out without even thinking." And just at the time when he is yelling, only Terri has the interest to calculate how many words the director is yelling this time!

For Jerry and Terri's first collaboration together, the production company and 'Little Giant Egg' arranged for a large outdoor screen broadcast, resulting in a big crowd, and a tide of cars outside. Promotions to date, 10 previews have been broadcasted on the PTS channel, and on the official 'Starlit' blog. We are anticipating this love and family intertwined drama to truly touch the audiences' hearts.