Posted by: wendy Jan 4 2009, 08:39 PM
Source: SPN News + 삐약@DNBN + fangirlmitz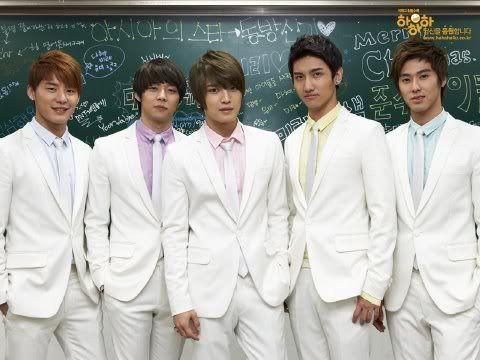 TVXQ "Ha, ha, ha advice" School Attack UCC 6 released!

Jaurim, Oisoo, Yoon Jong Shin, Kim Yu Na and etc. are involved in the topic of collecting the top stars to present Samsungs new HaHaHa UCC campaign. TVXQ's school attack video a while ago was released to the Korean netizens today.

On December 23 TVXQ went for a surprise visit to an all-girls class to promote the HaHaHa campaign performing the song with a funny and cute choreography. TVXQ prepared the attack on the school as a gift for the HS students that day. They were pleased with the enthusiatic response they got for their surprise visit.

Students commented that they cannot believe TVXQ was right in front of them and that their fun cheering urged her to study.

TVXQ's Hero said that the perplexed and surprised expression on the student's faces was all cute and that he saw students felt deeply happy with their visit. The video was spread on the internet through blogs and cyworld and the fans respond with "why not our school?" and "what standard do you select the schools?" expressing regret for missing the opportunity to see TVXQ as well as jealousy.

The campaign's plan was to help cheer each other for a smile and to give students hope.