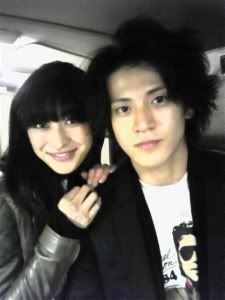 7 May 2008
Model and actress
Yamada Yu
is the latest celebrity rumored to be in a relationship with popular actor
Oguri Shun
. According to the scoop by the Sports Nippon newspaper, the pair started dating just a couple months ago after co-starring in the NTV drama series "Binbo Dashin."
Oguri was previously dating model Miho Tanaka, while Yamada was linked to actor Hideaki Ito. Both couples reportedly broke up around last summer. Oguri was later rumored to be in a relationship with Yu Kashii, but it was proven false after Kashii announced her engagement to Joe Odagiri in December.
8 May 2008
Oguri and Yamada worked together in late 2007 for the Japanese dub of the computer-animated film "Surf's Up." But it wasn't until they played romantic interests in last season's "Binbo Dashin" that a real romance started. They apparently began dating in mid-March after filming ended. People close to the two say that it is a serious relationship.
On Wednesday night, Shun openly admitted during his live radio show on "All Night Nippon" that he is currently dating Yu. News of their relationship had surfaced just one day earlier.
Yamada's agency has also acknowledged that the two are seeing each other and Yamada herself reportedly confirmed it as well. Oguri's management, on the other hand, opted not to comment.
Yu later updated her official blog and talked about Shun, saying that he is important to her.
+credits to dw9lives.+