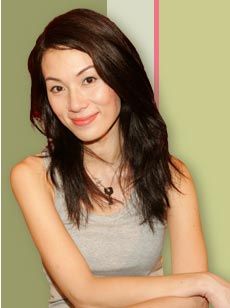 English Name: Maggie Cheung
Chinese Name: 張可頤
Birthplace: HK
Birthdate: 20 March 1970
Horoscope: Pisces
Blood type : O
Religion: Christianity
Favourite Colours: black, white, purple
Favourite Food: Italian food, eateries
Food Most Disliked: Processed and oily food
Favourite Dress Style: Really loves jeans, white shirts and simple makeup
Favourite Pasttimes: Travelling, Water sports, Ball sports
Best Traits: Very attentive towards things and people around her and is able to influence them.
Worst Traits: Too much of a perfectionist
Greatest Wish: Hopes for everyone to be able to freely express and influence, to change the world for the better.
Future Goals: Be an all-rounded artiste. To contribute more both on and off 'stage'.
Most Unforgettable Moment: 2003 TVB Anniversary Celebrations, when she bagged the 'MY FAVOURITE FEMALE ARTISTE' award, and won first for The Next Media Top Ten Artistes Top Ten Artistes. It was like a dream.
Filmography:
2005
Tung Chu Kwan Biopic
Song of Everlasting Sorrow
2004
The Conqueror's Story
War & Beauty
2003
Better Halves
The King of Yesterday & Tomorrow
Ups & Downs in the Sea of Love
2002
Let's Face It
Burninig Flame II
Police Station No.7
2001
The Awakening Story
2000
The Sky is the Limit
1999
A Smiling Ghost Story
Plain Love II
1998
To Catch a Thief
1997
A Recipe for the Heart
Mystery Files
Old Time Buddy
A Road & A Will
Those Were the Days
1996
One Good Turn Deserves Another
Once Upon a Time in Shanghai
Ancient Heroes TVB
Cold Blood Warm Heart
1995
A Kindred Spirit
The Unexpected TVB
The Condor Heroes 1995
~credits to Hoyee4u.com~