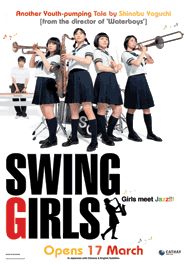 Title: Swing Girls
Released: 2005
Genre: Music/Comedy
Director: Shinobu Yaguchi
Casts:
Shihori Kanjiya
Yuika Motokariya
Yukari Toyoshima
Yuta Hiraoka
Synopsis:
A sweltering summer day in a remote town in Northeast Japan…A high school brass band boards a bus to cheer their baseball team. Meanwhile, 13 losers take make-up classes, taught by the math teacher, Ozawa (Naoto Takenaka), but their minds are miles away. One of the girls, Tomoko Suzuki (Juri Ueno), stares enviously out the window. Suddenly, a van filled with lunch boxes pulls up, but the driver has missed the bus. Staring vacantly at the spectacle, Tomoko has an idea…
The 13 girls board a local train under the ruse of delivery lunches. They scarf up one of the lunches, snooze and miss their stop, and have to walk the lunches to the stadium. As it turns out, the precious lunches have spoiled in the heat and the entire brass band and their director Itan (Miho Shiraishi), wind up hospitalized.
With the band out of action, the baseball teams practices for their next game. Takuya Nakamura (Yuta Hiraoka), cheated out of a lunch by the girls, scrambles to organise an Instant Brass Band Club, but he's stuck with the 13 losers and 3 other odd ducks. When he spies a jazz album, he realises they are perfect for a Big Band jazz band. As the girls practice intensively, they gradually master entire melodies, playing with real enthusiasm and pleasure.
On the eve of the baseball game, the Brass Band recovers. The Instant Girls cover their disappointment, but burst into tears as they walk home. When school's back for the fall, they decide to form the Swing Girls. But instruments are pricey. The girls take part-time jobs, wrecking havoc wherever they go. As girls drop out, the Swing Girls are reduced to five, but they start performing anyway.
Their math teacher, a closet jazz aficionado, takes them on and they start getting into the swing. Excited, their sisters return, and they decide to enter a student music competition. If they're accepted, they can play on a huge stage. First one disaster, then the next. The Swing Girls dream debut performance seems forever out of reach. When will they have their day…
+credits to movieXclusive+