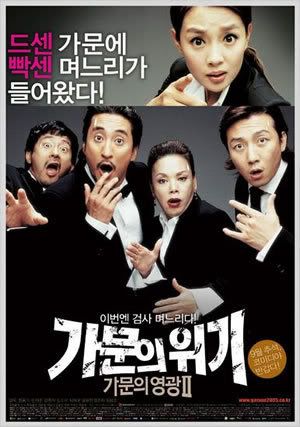 Title: Marrying The Mafia 2
Released: 2006
Genre: Comedy
Director: Jeong Yong-Ki
Casts:
Kim Soo-My
Shin Hyun-Joon
Kim Woon-Hee
Synopsis:
Ms Hong (KIM Soo-My), the big boss of a powerful group gives a mission to his three sons to find an elite daughter-in-law for his first son In-Jae (SHIN Hyun-Joon). In-Jae finally crushes into a beautiful lady, Jin-Kyung (KIM Won-Hee), who looks to be his soul mate. However, it is found that Jin-Kyung is a prosecutor of the homicide department and the family seems to be in a big crisis.
Review:
Does Mafia plus Prosecutor equate to happy family? A romantic slapstick comedy about two people on completely different sides of the law falling for each other, Marrying The Mafia 2 is the madcap sequel to writer/director Jeong Heung-su's 2002 surprise hit of the same title. Other than the common themes of being related to the Korean mafia and having the same title, this sequel has no relation to any of the characters from the first film.
Another thing different about this it is the director at the helm of this follow-up. With his only other movie being horror flick, Doll Master, director Jeong Yong-gi takes a stab at comedy - trading in his scary dolls for a couple of gangsters under the name of the White Tiger Family.
Being a devoted mother of three, the Godmother of the powerful mafia family needs just one more thing to be done in order to fulfil her life. That is getting her eldest son Jang In-jae (played by Shin Hyun-joon, whom some might recognise from Face) hitched to an intelligent and capable wife. So in all true mafia and motherly sprit, she orders him to present a daughter-in-law to her by her 60th birthday.
Living in Seoul to expand the family business, In-jae has little interest in finding a mate despite the pressure. That is, until he sets eyes on a beautiful girl (played by Kim Won-hee of Oollala Sisters) who happens to look very much like an old girlfriend of his. The girl, Kim Jin-kyung as it eventually turns out, works as a criminal prosecutor for violent crimes.
To protect his identity, In-jae introduces himself as a social worker, while Jin-kyung presents herself as a civil servant to appear less intimidating. Under these false impressions and a series of slapstick scenarios, they end up falling for each other, even after Jin-kyung specifies what exactly she does as a "civil servant".
But of course, the couple do not end up happily ever after yet. Not before facing a few obstacles typical in most other Korean gangster comedies (think "My Wife is a Gangster", "Hi, Dharma", etc.). When a gang that Jin-kyung is investigating on, steps in to challenge the White Tiger Family, it eventually leads to a revelation that threatens their relationship.
The story on its own is interesting enough, but the gangster comedy genre has been played out one too many times by other Korean moviemakers. The story falls short with its predictability in plot with only one good twist at the end. As for the actors, they do a decent enough job with the necessary overacting required of slapstick comedies, and admittedly watching the two romantic leads does make the movie much easier on the eyes.
There are a few good jokes, including a couple with references to the Korean culture clashing with the Western culture, but such moments are rare in the script. Viewers should be warned that there are a few offensive and crude scenarios that has very little to do with the plot, but there you have it at weak attempts of captivating audience's viewing attention.
Overall, if you do enjoy Korean slapstick comedies with little requirements on your thinking cap, then this movie should do the trick in getting you to unwind yourself for two hours.
+credits to movieXclusive+