Source:
xinmsn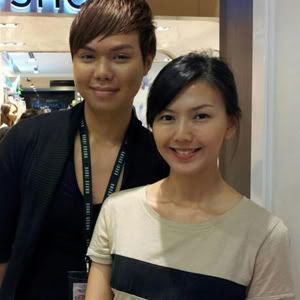 Pregnancy seems to agree well with
Stefanie Sun
Soon-to-be mummy Stefanie Sun has been staying home in recent months in order to take care of her care of her health. One of Singapore's most well-known singers, the petite 33-year-old decided against appearing at the Golden Melody Awards, which is to be held in Taiwan at the end of the month.
Stefanie shot her music video '180 Degrees' in February, when she was unaware that she was pregnant, taking part in strenuous stunts such as wire-action. The singer, who is now four months pregnant, has been staying at home ever since.
The mummy-to-be was spotted when out-and-about buying necessities for her future bundle of joy. In a photo taken with a fan, the singer glowed.
A close friend has shared that she personally feels that the baby is a girl as Stefanie is getting prettier and more radiant.
However, the gender of the baby has been kept closely under wraps as Stefanie seems set on surprising everyone with her little one when the time comes.