Credit:
Xin MSN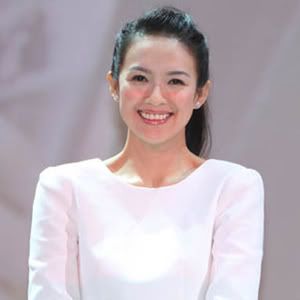 Zhang Ziyi

denies sex scandal allegations
The actress made a statement through her microblog yesterday, denying links to Chinese politician Bo Xilai
Chinese actress
Zhang Ziyi
was recently embroiled in a sex scandal involving China's former Minister of Commerce
Bo Xilai
.
According to Taiwanese media reports, the actress is on close terms with the disgraced politician Bo Xilai and had received more than RMB10 milllion (S$2 million) during "meetings" with him over the past years.
Ziyi was believed to have first met politician Bo in 2007, through an arrangement by founder and chairman of the Dailian Shide Group, Xu Ming. The actress was also said to have accepted TW$276, 000 (S$118,000) from Bo during their first meeting.
The actress reportedly had more than 10 encounters with Bo Xilai in the past years. The meetings, according to Chinese media reports, took place mostly near the Beijing International Airport or a private estate in Bejing Xishan.
It was also said that Xu Ming would "pay" Ziyi a sum of money on behalf of Bo Xilai after each "transaction".
According to reports, Ziyi is currently undergoing investigations for the matter and is barred from leaving China, where she is currently shooting "
The Grandmasters
".
Coincidentally, the actress was also conspicuously missing at the Cannes Film Festival, despite being invited as a guest presenter.
In response to the issue, Ziyi's management team made an official statement through her microblog yesterday, stating that the actress's no-show at the Cannes Film Festival was due to a tight filming schedule.
With regards to the sex scandal allegations, Ziyi's team has expressed plans to seek a redress through legal means.
"
This time, we do not plan to keep silent. If we allow the false allegations to continue, what's false will become half-truths, and what's white will become an in-between
," Ziyi's management wrote.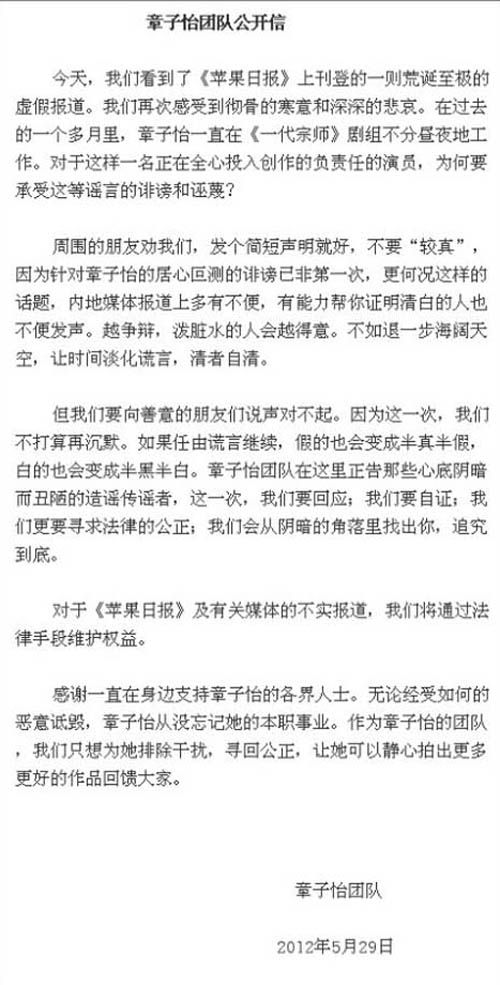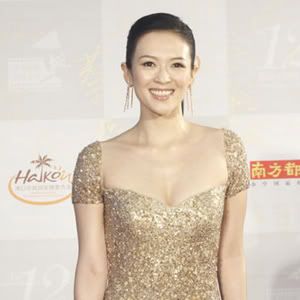 Credit:
Xin MSN
Zhang Ziyi

threatens to sue over Bo claims
The actress was spotted in Hong Kong despite dismissing rumours of her being barred from leaving China
Actress
Zhang Ziyi
who's at the heart of a sex scandal involving China's fallen politician
Bo Xilai
, was spotted in Hong Kong yesterday. She had earlier been rumoured to be barred from leaving China.
Photos showing the actress at the Hong Kong airport, clad casually in a red shirt with sunglasses, spread like on the Internet after they were uploaded.
The actress revealed on her microblog that afternoon that she had arrived in Hong Kong that morning to meet with her lawyers and will be taking action against Hong Kong newspaper
Apple Daily
over a story that she was paid to have sex with the politician.
Ziyi left for Hainan Island later in the day to attend "
The 12th Chinese Film Media Awards
" ceremony where she was seen in a stunning golden dress. The actress revealed that she was "
filming The Grandmasters before rushing over [to the ceremony].
"
On the sex scandal, Ziyi expressed that the report "
is a blatant lie and a groundless rumour. Every sentence is slander and is a serious case of defamation.
"
The actress then let on that she was in Hong Kong to meet her lawyers and had "
clearly stated my stand to the lawyers. I will seek legal action regardless of the cost.
" The actress was visibly displeased when commenting on the matter.
Ziyi also expressed that she hopes the rumours will cease and promised to share news on this matter soon.