Source: Osen
Credit:
allkpop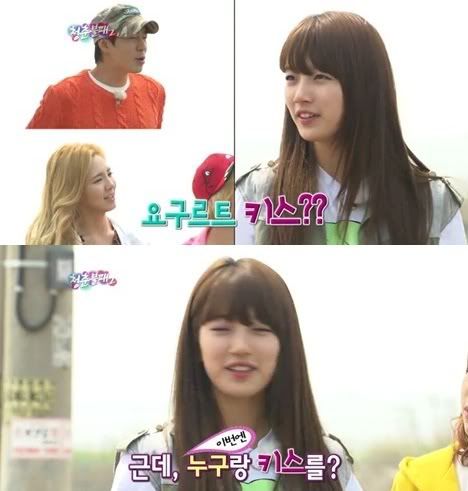 Suzy

kissed a guy without knowing his name?
Popular
miss A
member
Suzy
confessed that she had a kiss scene with a guy whose name she didn't know.
On the May 19th episode of
KBS2TV
's '
Invincible Youth 2
', the G6 members gathered with their family members and friends for some friendly fun.
On this day, Suzy found herself being teased by the other members for her strange pants. MC
Boom
commented, "
Suzy works so hard that her knee burst. I guess she works until her pants wear out.
"
To this, Suzy replied about boasting about her activities, "
I recently had a yogurt kiss during a shooting.
" This brought forth a flood of jealousy as
Yewon
of
Jewelry
cried, "
Stop kissing!
" and
SISTAR
's
Bora
lamented, "
How come such a young kid is always kissing? Let your unnies have a chance at them!
"
When Suzy was asked, "
Who was it that you had the kiss scene with?
" Suzy replied, "
I forgot his name.
" With an incredulous look, Boom cried, "
You kissed without knowing his name?
", which caused all the G6 members to tease Suzy by reenacting her kiss with a nameless man.

Source: Osen
Credit:
allkpop
On the May 19th broadcast of
KBS 2TV
's '
Invincible Youth 2
', the G6 members invited family and friends to celebrate the first harvest of the lettuce they've been personally growing with a grilled pork (samgyeopsal) party.
miss A's Suzy
invited her father to the show, and the duo had to go through a speed quiz with the grilled pork on the line. At one point, Suzy's father asked, "
What was the name of the dance team I was involved with in middle school?
" to which she answered, "
Big Size.
" The cooperation between father and daughter was quite impressive as the idol was also able to correctly guess his middle school nickname as well as his favorite food, pasta.
However, when it came to the final round of questions, Suzy tried to explain the answer "shaved head", but was unable to get the correct reply from her dad due to some of her strange explanations. The miss A member described a shaved head as: "
Something I want to do before I die
," "
What you get at a barber shop
," and even attempted to imitate a monk.
After the quiz ended, MC
Kim Shin Young
asked, "W
hy do you want to try shaving your head before you die?
" Suzy responded plainly, "
Just because
." After hearing her calm reply, Boom commented, "
I think if you shaved your heard you'd be a very good looking fellow.
"
Do you think Suzy could rock the bald look?