Source: My Daily
Credit:
allkpop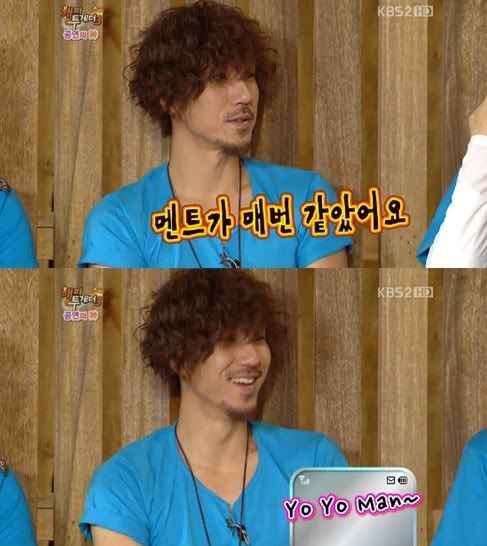 Tiger JK

reveals his life changed after meeting

Yoo Jae Suk

on 'Happy Together 3′
On the May 17th episode of '
Happy Together 3
',
Tiger JK
appeared as a special guest.
He shared his admiration for MC
Yoo Jae Suk
, revealing, "
I like to appear on programs that Yoo Jae Suk hosts. I'm very comfortable with Yoo Jae Suk. After meeting him, I gained a valuable life philosophy.
"
He continued, "
The philosophy is to 'live as a friendly person like Yoo Jae Suk'. I usually have a habit of ignoring people who try to get close to me, but now I approach others first
," explaining the way he's changed because of the "nation's MC".
When asked if they often text each other, Tiger JK responded, "
My wife Yoon Mi Rae has Yoo Jae Suk mania. Yoo Jae Suk gave me his number first so I sent him a couple of texts, but the reply was always the same.
"
Yoo Jae Suk explained, "
I don't know much about hip hop, and because his texts were all in hip hop terms, I replied the way I did.
" Tiger JK then jokingly commented, "
It was to the point that I thought his manager was the one who was replying to my texts.
"
Yoo Jae Suk also shared, "
I called him once, but he didn't pick up
," to which Tiger JK explained, "
I didn't pick up because I was nervous. I'm fine with texting but calling is a little uncomfortable for me.
"
When asked if he loves Yoo Jae Suk, Tiger JK honestly replied, "
Yes, a little bit.
"