Source: Osen
Credit:
allkpop
Lady Gaga

tweets about her concert in South Korea
Lady Gaga
shared her feelings after wrapping her recent concert '
Born This Way Ball
' in South Korea.
The global pop star tweeted:
Lady Gaga
✔ @ladygaga:
I could barely sleep last night. It was the 2nd highest attendance of fans in the History of concerts in Korea. Photo: pic.twitter.com/6EltATYz
28 Apr 12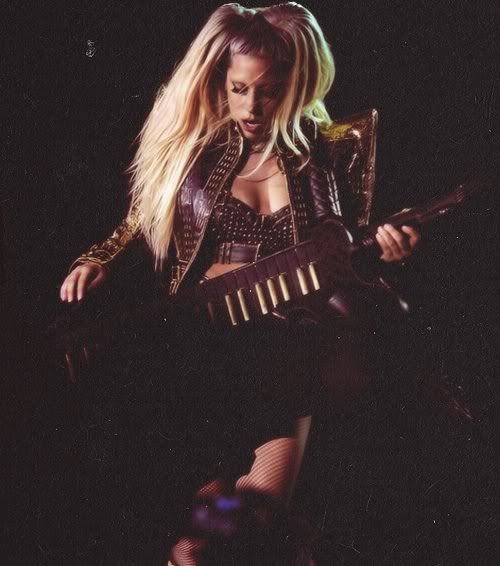 Lady Gaga's 'Born This Way Ball' took place in Seoul's Olympic Park Stadium on April 27th at 8PM KST. 45,000 fans were reported to be in attendance to watch the star perform with many fans even cosplaying as Lady Gaga to show their fandom. A number of South Korean celebrities have tweeted about their experiences at Lady Gaga's concert as well.
Netizens commented, "
The hype did not live up to the awesomeness of this concert
," "
Last night passed by too fast
," "
I didn't go this time, but I will next time
," and "
Return for another concert in South Korea whenever.
"
Lady Gaga is currently on a worldwide tour throughout 11 countries; the tour opened up in Seoul.
Source: Ji Sook's
Twitter
;
MTV News
Credit:
allkpop
Rainbow

has a blast at

Lady Gaga

's concert!
Many of you are probably aware that
Lady Gaga
stopped by South Korea to kick off her concert, '
Born This Way Ball
'.
Her presence had a huge impact on international and South Korean media from the moment she stepped into Incheon airport. It looks like Korean idols were also eager to watch her performance as Rainbow recently shared their experience at the concert!
On April 27th,
Rainbow
's
Ji Sook
tweeted, "
Rainbow has appeared at Lady Gaga's concert~ Thanks to Lady Gaga unnie, we got rid of our stress! We are leaving after relieving our stress~ The live performance was the best!!! Kyaaaaaa >_< .
"
The Korean Media Rating Board attempted to elevate the age requirement for the concert from 12 to 18 as there were some conservatives who believed Gaga's sexually explicit songs and pornographic images would "pollute the minds of youths". However, it looks like the concert carried out smoothly; reports state that over 45,000 filled up the stadium.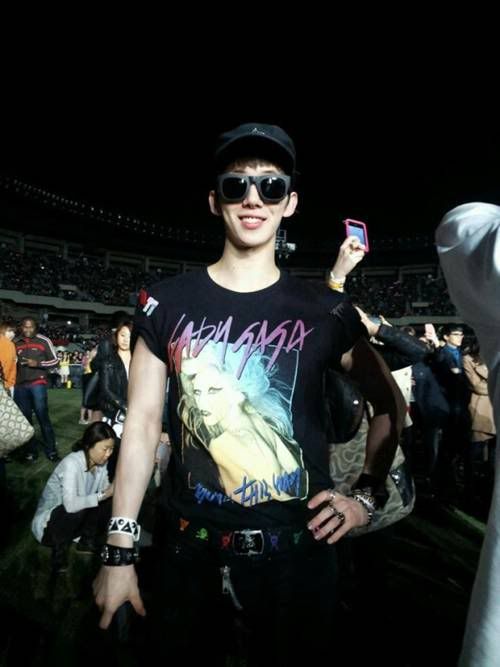 Source & Image: Jo Kwon's
Twitter
,
TVDaily via Nate
Credit:
allkpop
2AM's Jo Kwon

shares a new photo taken at

Lady Gaga

's concert in Seoul
2AM
's
Jo Kwon
attended world-famous pop star
Lady Gaga
's concert.
Lady Gaga's '
Born This Way Ball
' World Tour performance in Seoul took place at the Olympic Park on April 27th.
Jo Kwon who is a fan of the singer shared the proof photo above via his Twitter page and wrote, "
Gaga Ooh La La~
"
He proved to be a true 'little monster', dressed in a Lady Gaga shirt and unique sunglasses that would make the pop star proud.
"
Wow, was the concert fun?
" his fans asked him after viewing the photo, in addition to writing "
Little Monster Jo Kwon!
", and "
Awesome, I'm so jealous!
"
Meanwhile, Lady Gaga was touched by the 45,000 audience members who filled up the venue, after her concert had some protests and was labeled by some as unfit for minors.
Lady Gaga reportedly lived up to her elite world-star status and her amazing performance began with the singer entering the stage on a horse.
Lady Gaga
✔ @ladygaga:
I can you hear you Korea. I'm shaking.
27 Apr 12