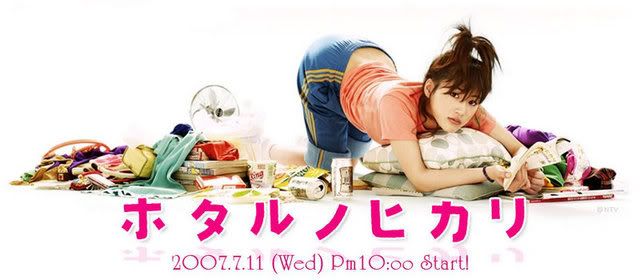 Title: Hotaru no Hikari
Released: 2007
Genre: Romance
Broadcast Network: NTV
Production Credits:
Original writing: Hiura Satoru
Screenwriter: Mizuhashi Fumie
Producer: Hazeyama Yuko, Mikami Eriko, Uchiyama Masahiro
Director: Yoshino Hiroshi, Nagumo Seiichi, Shigeyama Yoshinori
Music: Kanno Yuugo
Casts:
Ayase Haruka as Amemiya Hotaru
Fujiki Naohito as Takano Seiichi
Kuninaka Ryoko as Saegusa Yuuka
Kato Kazuki as Teshima Makoto
Takeda Shinji as Jinguuji Kaname
Itaya Yuka as Yamada Sachiko
Yasuda Ken as Futatsugi Shouji
Asami Reina as Sono Minako
Watabe Gota as Sawaki Shun
Shibue Joji as Tadokoro Junpei
Matsumoto Marika as Murota Suzuko
Synopsis:
Ayase Haruka stars as the title character, Amemiya Hotaru, in this adaptation of Hiura Satoru's "Hotaru no Hikari" manga series. Hotaru is a twenty-something office lady who has become a "dried fish" - she has "retired" from love, and she prefers to spend her time lazily at home. Then one day, her world gets shaken up when she unexpectedly ends up living with her boss (Naohito Fujiki). To complicate her life even further, she begins to find romance with a new employee named Makoto (Kato Kazuki).
+credits to wikipedia+