Source: XINMSN, XINMSN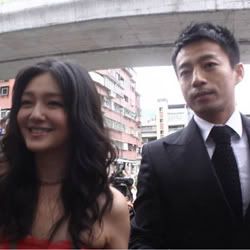 Wang Xiaofei

rumoured to have cheated on Barbie Hsu before marriage

On June 6, the Chinese media shocked the public with a claim that Chinese millionaire Wang Xiaofei had cheated on Taiwanese actress Barbie Hsu before their marriage.

Xiaofei's intimate text messages to Chinese model Angelin Lv were also revealed and published.

Dubbed China's Angelababy (a sexy Hong Kong model), Angelin is said to have a chest size of 33C and previously posed for a sexy photobook in Thailand before advancing her career in Hong Kong.

"Xiaofei, who likes to play mahjong, met Angelin last June. After their first meeting, the two had been going out for meals. Xiaofei even brought her to Lan Club (a club opened by Xiaofei's mother Zhang Lan)," an insider provided.

Text messages between Xiaofei and Angelin clearly showed that the businessman was the one who took the initiative. He sent Angelin steamy messages such as "I'm on fire", "I miss you too," showing that the pair shared a relationship.

At that time, Xiaofei was already publicly dating Barbie, although it seemed that he had no intentions of ending his relationship with Angelin. Barbie and Xiaofei married about three months ago.

It was believed that Angelin posted photos of her romantic dinner with Xiaofei on her microblog after Barbie's relationship with Wang went public. However, the Taiwanese actress was said to have ordered someone to blackmail Angelin, forcing her to delete the pictures.

Dissatisfied with what Barbie did, Angelin left an update on her blog.

"A cat fell in love with a fish in living a cup. One day, the cup broke and the fish died. The cat finally understood that loving someone doesn't mean you need to be with them," she wrote.

When reporters phoned Angelin to confirm the rumour, the model answered without hesitation, "Ever since I met him last June, he would bring me to dine at Lan Club each time he's in Beijing."

However, Angelin said it was "inconvenient to discuss" more when asked if she had dated Xiaofei at expensive and private hotels.

Although Barbie has yet to comment on the issue, the actress's mother responded on her behalf, "There is no need to discuss about the past, especially when it's something small. They [Barbie Hsu and Wang Xiaofei] will spend each and every day of their future happily. Barbie will not be unhappy over this."

The matriarch added that, "Barbie will not check Xiaofei's mobile phone. This is our family rule."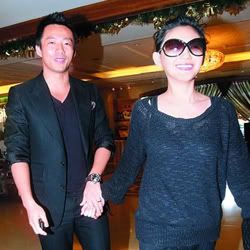 Barbie Hsu

unfazed about husband's scandal

Recently, steamy text messages between Chinese millionaire Wang Xiaofei and a sexy 25-year-old model Angelin Lv before the former's marriage to Taiwanese actress Barbie Hsu were revealed.

Fans supporting Barbie and Xiaofei voiced their anger about the incident, saying that Angelin merely wanted her two seconds of fame.

However, there were others who supported the model. They left messages on a forum, expressing that "something's wrong with him [Wang Xiaofei] to choose Barbie over a 25-year-old".

Barbie and Xiaofei seemed unaffected by the whole ordeal and carried on their normal routine.

At around 4am on May 7, Barbie updated her microblog and revealed that she had woken up early to cook porridge for her husband. The actress also called Angelin's exposť a "bizarre rumour".

Xiaofei followed suit and wrote on his microblog: "[I don't have] time to deal with rumours that have ill intentions."

He added that "a man's true happiness is to make the person, he loved most, happy, to work hard and be filial. If one always procrastinates, one could be swept away easily and left with nothing."

"Xiaofei is slightly affected [by the rumour]. There is something wrong with her (Angelin LV). He (Wang Xiaofei) is already married. Why bring up something that's already in the past?" Barbie's mother said, standing up for her son-in-law.

The older woman also chided Angelin for claiming that Barbie's marriage to Xiaofei was a political one and teasing Xiaofei for "being scared of his wife".

"What's that have to do with her? Different families have their own method of communication," Barbie's mother said.

On the other hand, Angelin, who has been receiving negative comments from netizens, replied, "It makes me really unhappy to see fans scolding me. All I did was tell the truth, but I ended up getting hurt. Poor me."

However, the model showed reservations when asked to comment on her past relationship with Xiaofei. She said, "This is a private and embarrassing question. I will not comment on it."