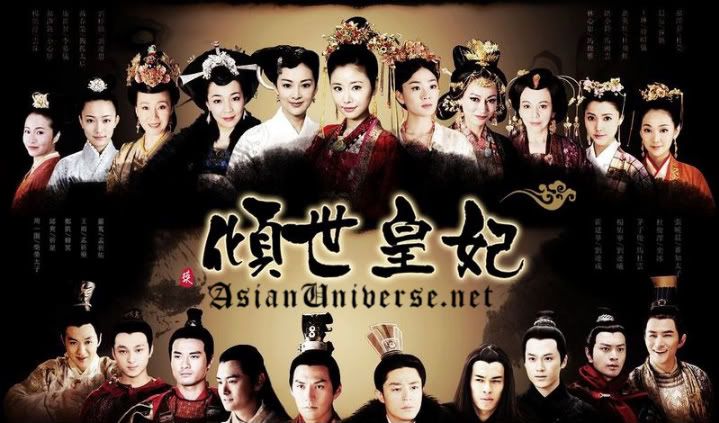 Title
: 倾世皇妃 / Qing Shi Huang Fei
English tile:
The Glamorous Imperial Concubine
Genre:
Period, Romance
Episodes:
40
Broadcast Network:
Hunan TV
Broadcast Date:
September 30, 2011
Replace:
Startling by each step 步步惊心
Synopsis
Fu Ya was an exiled princess who married three ambitious kings. The first marriage protected her from being executed with her family. The second marriage gave her shelter to heal her broken heart. The third marriage saved her people, but killed the man she loved. Although her husbands loved her, they were equally keen on using her to consolidate power. Their betrayals pushed her to become an avenging angel who would kill anyone in her way.
Cast :
* Ruby Lin as Fu Ya
* Yan Kuan as Qi You
* Wallace Huo as Lian Cheng
* Tony Yang as Lian Xi
* Wang Yu as as Qi Yun
* Qiu Shuang (邱爽) as Qi Xing
* Zheng Kai (郑凯) as Han Ming
* Jiang Kai as Xian Yun
* Hong Xiao Ling as Xiang Yun
* Mao Zi Jun (茅子俊) as Du Yun
* Yang Kai Chun (杨凯淳) as Yun Zhu
* Hao Ze Jia (郝泽嘉) as Du Wan
* Chen Chen (晨辰) as Su Yao
* Kara Hui as Du Fei Hong
* Wang Lin (王琳) as Han Shao Yi
* Dai Chun Rong as Dowager Gudu
* Kang Qun Zhi (康群智) as Li Mu Yi
* Du Jun Ze (杜俊泽) as Yi Bing
* Liu Tao as Wen Jing Ruo
* Liu Zi Jiao (刘梓娇) as Lian Si
* Miao Jun Hao (苗钧皓) as Hua Gong Gong
* Hao Luo Fan (郝洛钒) as Wu
* Zhang Xiao Chen as Shen Zhi
* Zhou Yi Wei (周一围) as Cai Rong
* Sun Xi (孙熙) as Mo Chou
* Chen Xi (陈曦) as Li Fei
Credit: Dramawiki