Source: Newsen
Credit:
allkpop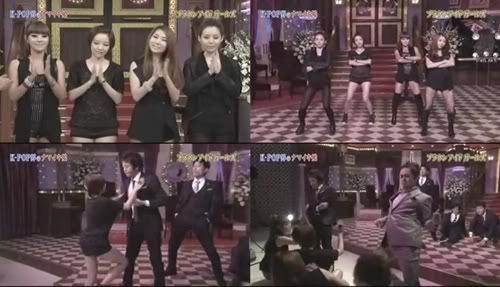 Japanese hosts do "Abracadabra" for

Brown Eyed Girls

, some fans not pleased
A handful of Brown Eyed Girls fans are apparently displeased with the actions of the hosts of Japanese comedy show, "Shabekuri 007".
The show aired on November 15th, and the members performed their hit, "Abracadabra". Miryo served as the main speaker and translator for the group, as she is fluent in Japanese.
What became a slight controversy is when the hosts decided to try out the "Abracadabra" hip dance themselves while slowly moving towards the girls, which caused the girls to scream. Some netizens were not comfortable with the situation, and suggested that it was harassment.
However, Brown Eyed Girls' management agency stated differently, commenting, "It was an ad-lib. It's simply a difference in culture. Since they're having activities in Japan, they should adjust to the cultural tendencies on the shows. The members did not feel bad about it."
They added, "In fact, Japanese fans of K-pop who are aware of Korean culture actually apologized. They were even worried that the Brown Eyed Girls might be traumatized. They said sorry."