Source:
Chosun
Credit:
allkpop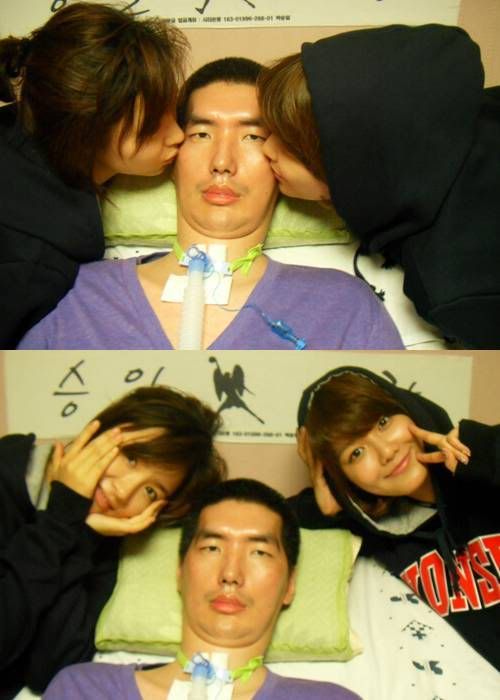 SNSD's Sooyoung

,

Shin Se Kyung

,

SuJu's Siwon

caught up in 'insincerity' controversy
Earlier, we reported on the heartwarming pictures of idol stars Shin Se Kyung, SNSD's Sooyoung and Super Junior's Siwon visiting ex-professional basketball player and coach, Park Seung Il. Park is suffering from a neurodegenerative disease called Lou Gehrig's Disease, better known as 'ALS'. However, instead of accepting this heartwarming act as their way of giving back to the community, some netizens thought it looked cheap and disrespectful to the patient, as if they had only visited him in order to develop their celebrity image.
In the photos, the celebrities are smiling cheerfully next to the ALS patient; Shin Se Kyung and Sooyoung were snapped giving kisses on Park Seung Il's cheek.
Netizens who thought negatively of this expressed, "He's not some zoo animal, why are they even taking pictures with those 'V' signs. The photos of them kissing the patient looks so forced and obvious." "It doesn't look good, those people swarming around the patient and taking pictures as evidence that you visited him."
Yet despite all the harsh comments, Park Seung Il posted a message expressing his thanks for their visit. "Sooyoung doesn't even like touching her own feet when they're dirty, let alone others', so I was touched when Sooyoung massaged my feet for me. Se Kyung had the un-talkative wife image just like from 'High Kick', and massaged my arms where I couldn't see. It was cute."
A representative of the Disabled Rights Institute explained through the phone, "With regards to the claims made by the netizens about this controversy, if they couldn't directly feel the discomfort of the disabled patient themselves, it is difficult to claim that this went against the 'Disability Discrimination Act'. However, if these celebrities did indeed participate in the act only to upgrade their image, then it certainly is a problem to look into."
Related Article:
Shin Se Kyung, SNSD's Sooyoung and Suju's Siwon pay a visit to an ALS patient