Source: Osen
Credit:
allkpop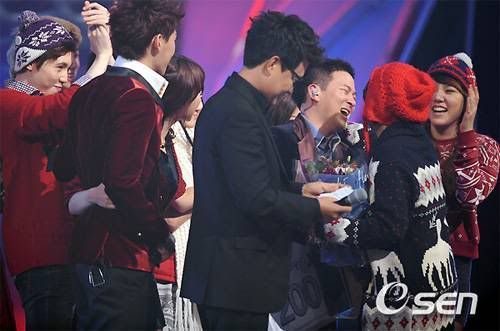 MBC, SBS, & KBS angered over Mnet's "MAMA" show
The three major public broadcasting companies - MBC, SBS, and KBS - are all angered over cable channel Mnet's decision to hold their year-end awards ceremony, MAMA ("Mnet's Asian Music Awards"), on a weekend.
The three are arguing that with the MAMA opening on Sunday November 28th in Macau, top celebrities must leave Korea by the 27th at the latest, forcing singers to choose between MBC and SBS's weekend music programs or attending the ceremony.
The industry has taken Mnet's decision to hold the MAMA on such an inappropriate date as a challenge against the public broadcast companies. Many representatives have already noticed that the three companies are feeling very uncomfortable with the amount of success that "Superstar K" has managed to garner.
A representative of Mnet clarified, "The MAMA will be opening on a Sunday due to an on-site survey in Macau. There is no other reason behind this decision."
Industry representatives are also wary of whether the contestants of "Superstar K" will be accepted by the public broadcast companies, since they were raised by a cable channel. Yet at the same time (since MBC has been inspired to create their own audition program, "The Birth of a Star"), many have been speculating as to how much support the "The Birth of a Star" contestants will be given from KBS, SBS, and Mnet.
One industry representative revealed, "Public broadcast companies feel immense pride in knowing that they can create their own popular singers and change the music market. However, this influence is slowly declining with the increasing usage of the internet and the fast advancement of cable channel Mnet. If the battle of pride between these channels continue to escalate in severity, it'll be much easier for one broadcast company to push for a particular artist or completely ignore another artist as they please."
Netizens commented, "Mnet, CJE, and Core Contents Media are all one company anyway. They should just make their own public broadcast company," and "Well, the public broadcast companies can make their own SM Entertainment special then."