Credit:
allkpop
,
allkpop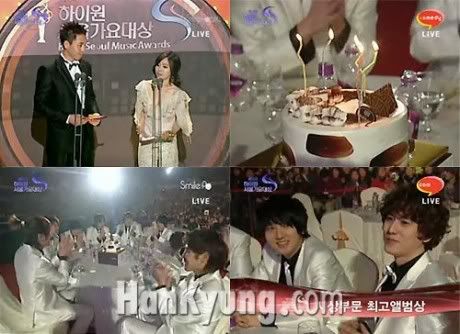 Super Junior

criticized for rude behavior at

Seoul Music Awards
Idol group Super Junior just can't seem to stay away from controversy.
Last night, the 19th High1 Seoul Music Awards took place, where Super Junior picked up three awards. But it was also Super Junior member Kyuhyun's 22nd birthday.
Anyway, during the awards show, Super Junior members celebrated Kyuhyun's birthday at their table with a birthday cake. Netizens are appalled at this behavior, as they found it rude that they would do such an act at a prestigious awards ceremony. Their reasoning is that, instead of honoring and celebrating the artists who were winning awards on stage, they brought out a cake to celebrate Kyuhyun's birthday. In addition, there was a magic show on stage from Lee Eun Kyul, but because of Super Junior's celebration, all of the attention was shifted onto them, furthering the anger from netizens.
Netizens have been commenting, "That's disrespectful to the award winners on stage," "An award ceremony is a celebratory setting, but this type of behavior is too excessive," "It's disappointing to see that they can't distinguish between public and private affairs," "If they were rookies, would they have been able to do such a thing."
You guys be the judge, rude or not?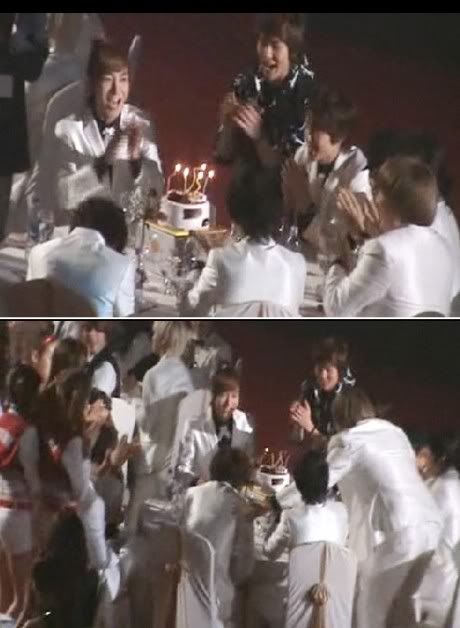 Hong Soo Ah

and

Lee Eun Kyul

speak on

Super Junior

at

Seoul Music Awards
At the 19th High1 Seoul Music Awards, Super Junior members celebrated Kyuhyun's 22nd birthday, while Hong Soo Ah and Lee Eun Kyul were on stage.
Netizens quickly criticized Super Junior for their behavior, calling it rude and disrespectful to the celebrities on stage.
After the incident, the ELF then went to Hong Soo Ah and Lee Eun Kyul's Cyworld minihompy's and left them many apologies on behalf of Super Junior. Well, it's a good thing they did, as both Hong Soo Ah and Lee Eun Kyul reacted to these messages and have pretty much put the entire controversy to rest.
Hong Soo Ah replied, "Super Junior fans, ELF! Please don't worry about me," and Lee Eun Kyul wrote, "I went and had fun doing my part, please don't worry about it."
These two statements from the stars that were on stage during Super Junior's celebration, have put an end to all of the controversy and chatter going on regarding the situation. Thanks to the ELF, Super Junior has been saved.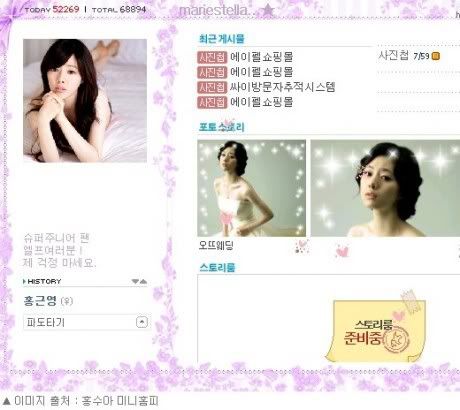 Hong SooAh

to ELFs, "It's alright"
Source: Newsen | Credit: KBites
Actress Hong SooAh relays the message "I'm alright" to Super Junior fans.
Group Super Junior won 3 awards during the 19th High1 Seoul Awards – bonsang, High1 popularity award and Hallyu special award on 3rd February.
But the surprise birthday party which the group did for member KyuHyun has been criticised by many netizens. At that time, Hong SooAh and magician Lee EunKyul were announcing the winner for digital music award, and the birthday party had more or less disrupted the atmosphere during the award ceremony.
With that Super Junior fans have posted up apology messages on Hong SooAh's minihompy and with that Hong SooAh and Lee EunKyul relays the message "It's alright". Hong SooAh wrote on her minihompy on 4th February, "Super Junior fans ELFs, please don't worry. I'm alright, you don't have to leave messages on my guest book."
Lee EunKyul also wrote on the minihompy, "We understand the situation and it's was alright for me, so ELFs need not post up the apologies."