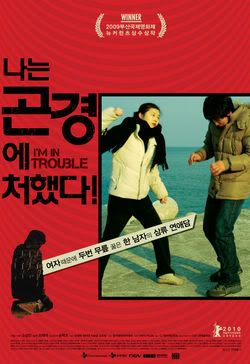 * Movie: I'm in Trouble!
* Director: Sang-min So
* Writer: Sang-min So
* Release Date: December 10, 2009
Cast
Min Seong-wook
Jung Ji-yeon
Lee Seung-joon
Kim Joo-ryeong
Lee Hee-joon
Plot
"I'm in Trouble!" is a comedy centered around a third rate poet and his many break-ups.
Seon-woo (Seong-wook Min) won the Kyeongin Ilbo Newspaper's Spring Literary contest, but he's still unemployed. His girlfriend of three years Yun-a (Ji-yeon Jeong) asks Seon-woo to meet her father, but he never shows up. Instead, he spends the night with his senior Seung-kyu (Seung-jun Lee) drinking alcohol.
Yu-na finally has enough and breaks up with Seon-woo. Seon-woo, wanting to get back with Yu-na, travels to Donghae to reconcile, but ends up spending night with a dabang coffeeshop girl. Seon-woo finally meets Yu-na again, but somehow his senior Seung-kyu and the dabang coffeeshop girl appear in front of them ...
+credits to asianmediawiki+