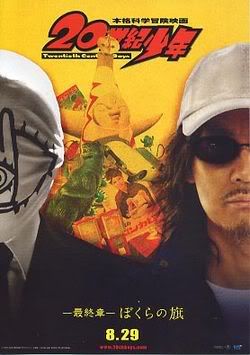 * Movie: Twentieth Century Boys: Chapter Three
* Director: Yukihiko Tsutsumi
* Writer: Naoki Urasawa (manga), Yasushi Fukuda
* Producer: Nobuyuki Iinuma
* Cinematographer:
* Release Date: August 29, 2009
Casts
* Toshiaki Karasawa - Kenji Endo
* Etsushi Toyokawa - Occho
* Airi Taira - Kanna Endo
* Takako Tokiwa - Yukiji
* Hitomi Kuroki - Kirko Endo (Kenji's sister)
* Teruyuki Kagawa - Yosh*tsune
* Hiroyuki Miyasako - Keroyun
* Renji Ishibashi - Inshu Manjome
* Naoto Takenaka
* Nana Katase
* Chizuru Ikewaki
* Kuranosuke Sasaki - Fukube
* Fumiyo Kohinata
* Katsuhisa Namase
* Shiro Sano
* Katsuo Nakamura
* Yoriko Douguchi
* Fumiya Fujii
* Hanako Yamada
* Raita Ryu
* Takashi Fujii
* Hiro Masuda
* Hidehiko Ishizuka
* Yukihiro Takahashi
* Tsuyoshi Ukaji
Plot
The year is 2017 and three years since Friend has governed the world with his Friendship Democratic Party. A destructive virus has hit Tokyo and the government builds a gigantic wall to quarantine the city. Friend makes the revelation that on August 12th at 12:00 the human race will be destroyed by aliens. The only people who will survive are true believers of Friend ...
The resistance continues their battle against the Friendship government. Ocho (Etsushi Toyokawa) discovers Kanna (Airi Taira) has separated from Yosh*tsune (Teruyuki Kagawa) & his resistance group. Kanna plans to start a more radical resistance group that will arm themselves heavily. Meanwhile, Kenji (Toshiaki Karasawa) enters the divided city of Tokyo ...
+credits to asianmediawiki+