Credit:
KBites
Son DamBi

VS

Lee Hyori

showdown on

Family Outing
The preview to the next episode of SBS 'Family Outing' featuring Son DamBi to be aired on 3rd May has been released.
The filming for the next 2 episodes of 'Family Outing' took place on 20th and 21st April in a village in Jang Heung. And Son DamBi was the female guest appearance on the show, which won her the attention of the other Family members.
And naturally, there was a whole psywar that went on between her and the 2 permanent female Family members Lee Hyori and Park Ye Jin. Especially between the dancing queen Son DamBi, who made it big with hits like 'Crazy' and 'Saturday Night' and sexy queen Lee Hyori.
In the preview video, Son DamBi was featured shouting to Lee Hyori, "Now is my time!", once again another 'humiliating' scene for Lee Hyori since Kim Won Hee's appearance on the show in April.
Though you should have seen netizens' responses, "You are still far from Hyori standard", "Son DamBi sexy? More like innocent looking", "More anti perhaps?".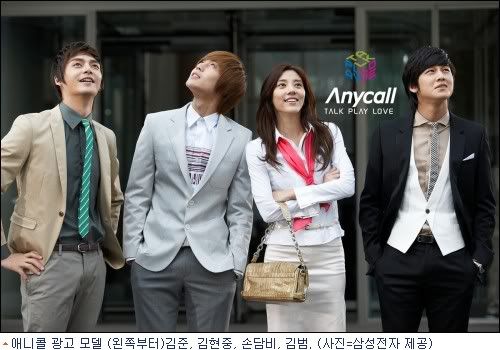 Son DamBi

and

F3

members for Haptic Mission CF
Son DamBi and Boys Over Flowers F3 members Kim Hyun Joong, Kim Bum and Kim Joon are the new models for SamSung Anycall CF 'Haptic Mission'.
Different from the normal music drama or movie type CF, 'Haptic Mission' takes on the perspective with a reality show style giving the stars real missions, showing a more down-to-earth and real sides of them.