Source:
Tokyograph
The spring drama season is usually a time for networks to focus on young stars. While there's plenty of that here, including "Atashinchi no Danshi" starring Maki Horikita, this spring has shifted away from the student crowd. Fans of typical school dramas may be disappointed, while mystery and suspense fans will surely have their fill. Still, the new lineup has something for everyone, and if all else fails, Takuya Kimura is coming to the rescue!
TBS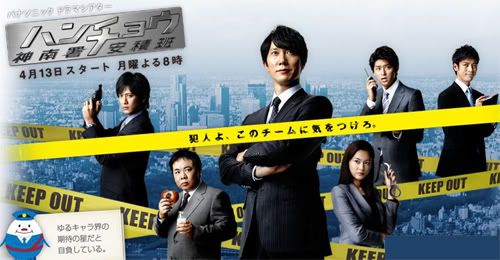 Hancho ~Jinnansho Azumihan~ (ハンチョウ〜神南署安積班〜)
TBS, Monday 8:00pm, premieres April 13
Jinnan Station is a small police station newly established in Harajuku, where Kuranosuke Sasaki plays the chief clerk of the station's detective force. Although he has the title of chief clerk, there are only five detectives working under him. In the first episode, the dead body of jewelry shop owner Mitsue Yokotani is discovered one early morning. With her purse missing from the crime scene, it appears to be the result of a robbery, but one detective (Muga Tsukaji) feels there's more to the case. The behavior of one nearby resident (Etsuko Ichihara) seems suspicious, so the team begins to investigate the woman. After an interesting encounter with the woman that night, she shows up at the station the next day, giving herself up as Yokotani's killer...
Other Cast: Shunsuke Nakamura, Tomoka Kurotani, Toshiki Kashu, Shogo Yamaguchi
Official Site:
http://www.tbs.co.jp/hanchou2009/
Fufudo 2 (夫婦道)
TBS, Wednesday 9:00pm, premieres April 15
Tetsuya Takeda and Atsuko Takahata return in this sequel to the 2007 series "Fufudo." Tea-loving Kosuke Takanabe (Takeda) and his reliable wife Satoko (Takahata) are an ordinary couple in Saitama who operate the manufacture and sale of tea on the Takanabe garden. They have three daughters, who have all married and left home, and one son named Shigeru (Yuto Suzuki) that they live with. The sequel starts in the spring, with Kosuke about to begin the harvest and Satoko planning to start a cafe in a section of their storefront. One day a TV producer (Joji Kokubo) comes to Takanabe's garden looking to do some filming for a show. Kosuke gets really excited about this opportunity for a growth in sales, but the show does not go as smoothly as Kosuke expected.
Other Cast: Shizu-chan, Seiko Takuma, Yuika Motokariya, Kaoru Sugita, Isao Hashizume
Official Site:
http://www.tbs.co.jp/fufudo09/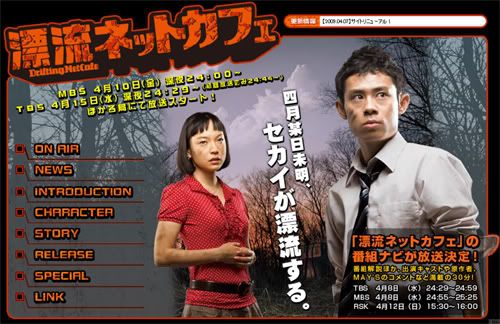 Hyoryu Net Cafe (漂流ネットカフェ)
TBS, Wednesday 12:29am, premieres April 15
It all started with a "net cafe." The hero Koichi (Atsushi Ito) is a soon-to-be father leading a complacent life. One day, he happens to stop by an internet cafe, and there he bumps into Kaho (played by model KIKI), his first love from his junior high school days. Having just fought with his wife, Koichi's heart is filled with his old feelings. All of a sudden, a strange wave flows through the computers and cell phones in the net cafe, and the entire place blacks out, just before rain begins to pour outside. Unable to leave safely, both Koichi and Kaho stay overnight at the net cafe. The next morning, when they step outside, they find the world is completely different. Koichi is determined to find out why the entire cafe has transported him to a different world, and to return to his family in the original world. As he fights against various fears and tries to solve the mystery, people start to disappear one after another. Can they all survive through such a crisis!? And what is the secret of his first love with Kaho!?
Other Cast: Reina Asami, Hidekazu Nagae, Masahiro Toda, Yuko Mano
Official Site:
http://hyoryu-netcafe.jp/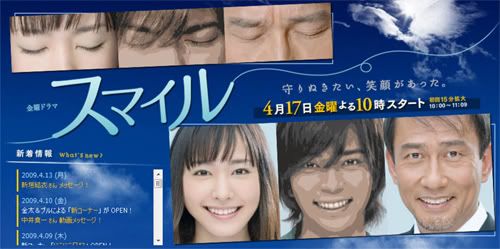 Smile (スマイル)
TBS, Friday 10:00pm, premieres April 17
Bito Hayakawa (Arashi's Jun Matsumoto) has a Filipino father and a Japanese mother, but he was born and raised in Japan and has never visited the Philippines. The ever-smiling Bito works at Machimura Foods during the day, and at night, he works a part-time job trying to make his dreams come true. One day during an incident at a bookstore, he meets a girl named Hana Mishima (Yui Aragaki), who lost her ability to speak due to an accident. But even though she can't speak, Bito is drawn to her beautiful smile. However, Bito becomes wrongly suspected by the police for a crime, and after meeting the lawyer Kazuma (Kiichi Nakai), the issue begins to grow... Together, Bito, Hana, and Kazuma will go through challenging times and have to overcome many obstacles.
Other Cast: Eiko Koike, Hidenori Tokuyama, Suzunosuke, Shun Oguri, Masanobu Katsumura
Official Site:
http://www.tbs.co.jp/smile09/
God Hand Teru (ゴッドハンド輝)
TBS, Saturday 7:56pm, premieres April 11
This is an adaptation of Kazuki Yamamoto's manga series "God Hand Teru." Teru Mahigashi (Yuta Hiraoka) is a rookie surgeon who has just finished his training and is assigned to Yasuda Kinen Hospital, home of the best operating room in the world. The hospital is even nicknamed "Valhalla" because its top-notch surgeons are viewed as gods. Patients are constantly being brought in, and the hospital often feels like a battlefield. When Teru is assigned as an assistant to Valhalla's #2 surgeon Shuichi Kitami (Tetsuya Bessho), he is kicked out of the operating room for his inability to keep up with Kitami's incredible speed. On the other hand, Teru's rival is the rising star Kozue Shinomiya (Asami Mizukawa), who is highly skilled and views surgery as an art. One day, a young girl in critical condition arrives, and Teru is the only available surgeon. He freezes up, but he begins to feel an ache from a mark on his chest that was left by his father saving his life when he was young. Suddenly, his mind becomes clear and is focused only on saving the girl's life...
Other Cast: Eri Murakawa, Hirofumi Araki, Taiki Nakabayashi, Atsuro Watabe
Official Site:
http://www.tbs.co.jp/god-teru/
Mr. Brain (MR.BRAIN)
TBS, Saturday 7:56pm, premieres May 23
SMAP's Takuya Kimura is taking on yet another new challenge. After playing characters such as a race car driver, a public prosecutor, and even Prime Minister, he will be now playing the part of a neuroscientist named Ryusuke Tsukumo, working for the National Research Institute of Police Science (part of the National Police Agency). He is generally incapable of reading the atmosphere of a situation, but when it comes to science, he is well respected. Whenever something catches his interest, he thoroughly sticks to it and never gives up, chasing down the criminals with certainty. This series combines the exciting elements from mystery, suspense, and comedy dramas.
Other Cast: Haruka Ayase, Hiro Mizushima, Mao Daichi, Teruyuki Kagawa, Yuji Tanaka, Tortoise Matsumoto, Sei Hiraizumi
Official Site:
http://www.tbs.co.jp/mr-brain/
Boku no Imouto (ぼくの妹)
TBS, Sunday 9:00pm, premieres April 19
The older brother (Joe Odagiri) is a genius surgeon, but is somehow still lacking. On the other hand, the younger sister (Masami Nagasawa) is poor at studying, but she has a good nature and a strength for living. "Boku no Imouto" is a human drama about these two siblings whose parents died while they were still children. Because of their different values, they are always arguing, such as when the brother finds out that his sister is having an affair with a married man. However, the siblings have also developed a strong bond that keeps them together. But a huge and unexpected incident occurs, which threatens to shake their relationship.
Other Cast: Junior Chihara, Rie Tomosaka, Tetsushi Tanaka, Go Wakabayashi, Hideji Otaki
Official Site:
http://www.tbs.co.jp/bokunoimouto/
Fuji TV

Konkatsu! (婚カツ!)
Fuji TV, Monday 9:00pm, premieres April 20
Fuji TV has assembled a high profile cast and staff for its new Monday night drama series. SMAP's Masahiro Nakai plays the lead as the unemployed son of a tonkatsu restaurant owner. He finds a job that requires a married person, so he lies by saying that he has plans to marry, and he is forced to keep up the charade using a part-time worker from the restaurant (Aya Ueto). The relationship between the two is the key of this romantic comedy, though the series also focuses on family and friendship through Nakai's interactions with the other characters. KAT-TUN's Tatsuya Ueda is making his drama debut as Nakai's brother, while Ryuta Sato and Shosuke Tanihara play his friends.
Other Cast: Yumiko Shaku, Yukiya Kitamura, Ryo, Jun Fubuki, Isao Hashizume, Fumiyo Kohinata
Official Site:
http://wwwz.fujitv.co.jp/kon-katsu/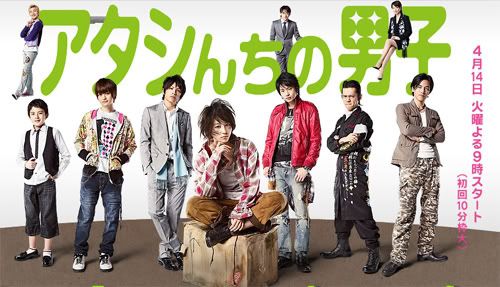 Atashinchi no Danshi (アタシんちの男子)
Fuji TV, Tuesday 9:00pm, premieres April 14
These days, the term "homeless" has taken on new meaning. There are youths referred to as "net cafe refugees," who have neither a job nor a place to live, but who find themselves hopping around internet cafes. One such refugee is a 20-year-old girl named Chisato (Maki Horikita), who lost her mother at a young age due to sickness. She spent her youth trying to escape from the huge debt her father left her, and her battle with the repossessors unfolded every night. However, her life changed after meeting one man named Shinzo (Masao Kusakari), changing her views on the meaning of "family." Shinzo comes from a rich family tracing back to the Edo period, and he adopted six good-looking sons with the hope of one becoming his successor, but all of them have strange personalities. Shinzo promises to free Chisato from her debt if she marries him and becomes the mother of his sons. However, a life with these six guys under one roof will not go smoothly...
Other Cast: Jun Kaname, Yoshinori Okada, Osamu Mukai, Yusuke Yamamoto, Koji Seto, Tomoki Okayama, Takeshi Tsuruno, Koji Yamamoto, Reiko Takashima
Official Site:
http://wwwz.fujitv.co.jp/atashinchi/
Shiroi Haru (白い春)
Fuji TV, Tuesday 10:00pm, premieres April 14
Former yakuza Haruo (Hiroshi Abe) is finally released from prison after completing his sentence. With nine years worth of prison gratuities in hand, he stops at a restaurant to enjoy a good meal, but all of his money ends up being stolen. With nothing left, he spends the night at a net cafe, and he manages to look up his old friend from his yakuza days. When Haruo visits the next day, he learns that his old girlfriend Mariko (Mahiru Konno) was living with another man, but later died of illness. Haruo, who had committed murder 9 years earlier to earn the money for Mariko's medical treatment, is shocked and angered. He decides to track down that other man (Kenichi Endo), who runs a bakery with his wife (Miho Shiraishi) and daughter Sachi (Nozomi Ohashi). Haruo later runs into Sachi at the park, but he has yet to find out the truth about her.
Other Cast: Yuriko Yosh*taka, Yuya Endo, David Ito
Official Site:
http://ktv.jp/haru/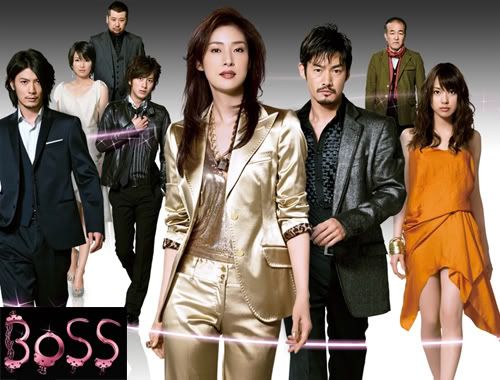 BOSS (BOSS)
Fuji TV, Thursday 10:00pm, premieres April 16
This series revolves around a group of peculiar detectives in a new division created to fight against an increase in atrocious crimes. A beautiful career woman (Yuki Amami) has just returned from training in the U.S. and is appointed as the "boss" of this division. But despite her intelligence and capabilities, she can never understand a man's heart, so she remains unable to find a husband. In fact, her assignment in the U.S. was really a demotion after she ruined her career track over a man. So why was she chosen as the boss of the new division? Even though the detectives are talented, they all have some kind of issue or flaw, and they are considered to be the "problem children" of the police force. In the end, the division's true purpose is just to isolate these problematic detectives.
Other Cast: Yutaka Takenouchi, Erika Toda, Junpei Mizobata, Michiko Kichise, Kendo Kobayashi, Yoichi Nukumizu, Tetsuji Tamayama
Official Site:
http://wwwz.fujitv.co.jp/BOSS/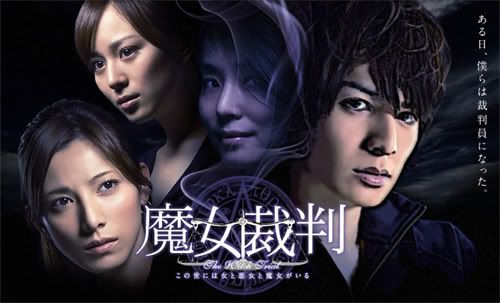 Majo Saiban (魔女裁判)
Fuji TV, Saturday 11:10pm, premieres April 25
Majo Saiban is the first television drama series focused on Japan's new jury system, which is being introduced in May. The story is about a young part-timer named Toru (Toma Ikuta) who has no interest in social issues. He gets called in as a juror in the trial of a woman labeled as a "witch" (Yuriko Ishida), charged with a murder over an enormous inheritance. Though it appears that she is definitely guilty, one by one the jurors begin casting their votes for "not guilty." From the shadows, there is a mysterious organization buying control of the jury. At the same time, strange events start happening around Toru. When another juror (Ai Kato) is threatened, Toru is determined to save her. However, Toru's girlfriend, a newspaper reporter (Manami Higa), seems suspicious of their relationship. And so, Toru begins his lonely fight for the truth.
Other Cast: Ryohei Suzuki, Shiori Kutsuna, Haruka Suenaga, Saori Takizawa
Official Site:
http://www.fujitv.co.jp/majo/
Egoist (エゴイスト~egoist~)
Fuji TV, Weekdays 1:30pm, premieres April 6
Akari Fujimoto (Rei Yoshii) is an aspiring stylist who has landed a job in charge of costumes for top actress Reiko Saijo (Naomi Kawashima), and Akari is desperately trying to do her best. But when her mother Ayame (Midori Yamamoto), a former actress with a hatred for show business, hears Akari mention Reiko's name, her facial expression stiffens. Later on, while Akari is trying to choose an outfit for Reiko, the unsatisfied actress demands an immediate change of stylist, sending Akari into shock. Back at the Fujimoto household, Ayame collapses from illness, and Akari's younger sister Kaori (Mao Miyaji) calls for an ambulance. At that time, Kaori happens to see an old maternal handbook, but it contains a very unexpected name... and she sees it as an opportunity to boost her own career as an actress.
Other Cast: Shinji Todo, Tsuyoshi Hayashi, Katsutaka Furuhata
Official Site:
http://tokai-tv.com/egoist/
TV Asahi
Rinjo (臨場)
TV Asahi, Wednesday 9:00pm, premieres April 15
Masaaki Uchino stars as Kuraishi, a coroner known for his keen powers of observation and his thorough investigations. In the first case of the series, a man and woman are found dead in an apartment. Kuraishi asks apprentice coroner Ichinose (Dai Watanabe) for his opinion, and Ichinose concludes that the presence of hydrogen cyanide on the woman suggests a forced double suicide. However, Kuraishi presses him, asking questions such as "Why did she commit the crime last night?" When Ichinose replies that a coroner's job is simply to determine the cause of death, Kuraishi rebukes him and immediately heads off to the next case with his assistant Rumi (Yuki Matsush*ta). There, they find a man dead in his basement, and Kuraishi declares it a suicide, but detective Tachihara (Masanobu Takashima) insists that the evidence points to murder...
Other Cast: Sayaka Kaneko, Jun Hashizume, Masato Ibu, Kotomi Kyono
Official Site:
http://www.tv-asahi.co.jp/rinjo/
Kyoto Chiken no Onna (京都地検の女)
TV Asahi, Thursday 8:00pm, premieres April 23
This is the fifth season of "Kyoto Chiken no Onna," a mystery series that first aired in 2003. The main character is Aya Tsurumaru (Yuko Natori), a prosecutor at the Kyoto District Public Prosecutor's Office. As a working mother, Aya's strength is her "housewife's intuition," which gives her insight into cases that none of the men in her office can see. While many familiar faces are returning to the series, the show will also see additions such as Susumu Terajima and newcomer Tsubasa Mori.
Other Cast: Toru Masuoka, Ikkei Watanabe, Keizo Kanie, Kana Wakisawa
Official Site:
http://www.tv-asahi.co.jp/kyoto/
Yakou no Kaidan (夜光の階段)
TV Asahi, Thursday 9:00pm, premieres April 23
The Seicho Matsumoto novel "Yakou no Kaidan" is being adapted to television, to celebrate the 100th anniversary of Matsumoto's birth. It is said that women seek dominance, while men are satisfied with fortune and fame. The story centers around one young man (Naohito Fujiki) who rises from the status of a simple stylist to the top of the beauty industry. The man is merciless, willing to do whatever it takes to achieve his desires. One of the victims of his ambition is a women's magazine editor, played by Yoshino Kimura. Desire, envy, and lust abound in this suspenseful human drama.
Other Cast: Yui Natsukawa, Keiko Oginome, Kimiko Yo, Shigeru Muroi, Nenji Kobayashi
Official Site:
http://www.tv-asahi.co.jp/yako/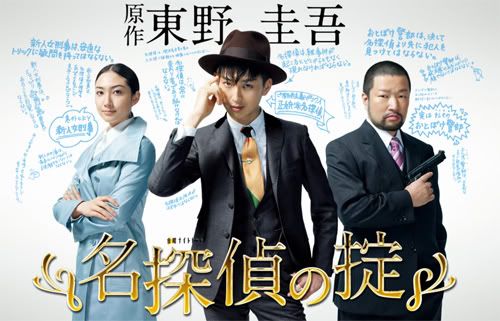 Meitantei no Okite (名探偵の掟)
TV Asahi, Friday 11:15pm, premieres April 17
The original "Meitantei no Okite" is written by Naoki Prize-winning mystery writer Keigo Higashino, whose works have been turned into several hit dramas, including "Galileo" and "Ryusei no Kizuna." But in this series, Higashino applies his humor to the mystery genre, taking jabs at the shameful cliches and contradictions found in standard mysteries, such as locked-room murders, alibi tricks, and dying messages. Shota Matsuda stars as the so-called "famous detective" Daigoro Tenkaichi, while Yu Kashii takes on the lead female role as a rookie cop.
Other Cast: Yuichi Kimura, Chisun, Jingi Irie
Official Site:
http://www.tv-asahi.co.jp/meitantei/
NTV
Aish*teru ~Kaiyou~ (アイシテル~海容~)
NTV, Wednesday 10:00pm, premieres April 15
Aish*teru is a human drama based on a manga by Minoru Ito. After a young boy takes away another boy's life, the series draws the stories of their families as they cope with the tragedy. Both families are typical households that can be found anywhere, and the two mothers (Izumi Inamori, Yuka Itaya) are just like any other, devoting their lives to raising their kids with love. The show touches on many similar events that have occurred in recent years in Japan, but unlike other dramas that have done so, "Aish*teru" truly focuses on the lives of the families involved, as they each struggle to find their way to continue living.
Other Cast: Taro Yamamoto, Umika Kawashima, Tomoko Tabata, Shiro Sano, Misako Tanaka
Official Site:
http://www.ntv.co.jp/aish*teru/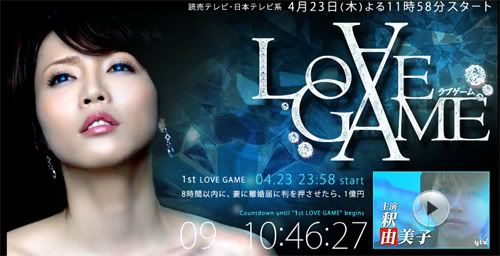 LOVE GAME (LOVE GAME)
NTV, Thursday 11:58pm, premieres April 23
What is the LOVE GAME? If you can pass the ultimate challenge regarding love, you will receive 100 million yen. And you don't have to risk anything! However, there has never been one successful player... Yumiko Shaku plays the beautiful but mysterious "dealer" of this game. The first challenger is the 29-year-old businessman Koichi Takizawa (Shun Shioya), who is faced with the task of getting his wife to sign divorce papers in the next eight hours. Koichi accepts the challenge, believing that it will be easy to persuade his obedient wife (Hiromi Kitagawa) and explain to her afterwards that it was all just a game. But he discovers that she absolutely won't leave him, as she is hiding a shocking secret.
Official Site:
http://www.ytv.co.jp/lovegame/
The Quiz Show (THE QUIZ SHOW)
NTV, Saturday 9:00pm, premieres April 18
At Ginga TV, a live-broadcast quiz show is about to begin... The contestants will challenge a series of seven questions, with each correct answer earning them more money, up to 10 million yen. Those who complete all seven correctly will get the chance to wager all of the money for a "Dream Chance," where those who can complete one final task will have one of their dreams come true. But what the contestants don't know yet is that the show's unrelenting host (Arashi's Sho Sakurai) will lead them to reveal their darkest secrets, live on the air. Will the challengers be able to keep their cool? And how far will they go to achieve their dreams?
Other Cast: Yu Yokoyama, Miki Maya, Aya Matsuura, Shigeru Izumiya, Eisuke Sasai, Sho Aikawa, Toshihide Tonesaku, Narushi Ikeda, Erena Mizusawa, Nozomi Ohashi
Official Site:
http://www.ntv.co.jp/quizshow/
Ikemen Sobaya Tantei (イケ麺そば屋探偵~いいんだぜ!~)
NTV, Saturday 12:50am, premieres April 4
Worried about her younger brother Juntaro's future, Itako (Keiko Horiuchi) visits the soba restaurant that Juntaro runs. The store is known as the "Ikemen Sobaya," due to the good looks of Juntaro (Naohito Fujiki) and the part-time delivery boys. Itako discovers that Juntaro does more than just work at the shop - he also happens to work as a detective who solves a lot of incidents around the neighborhood. Juntaro is also surrounded by a cast of strange characters, such as the gay president of a local talent agency (Arata Furuta) and a detective who is constantly at odds with Juntaro (Katsuhisa Namase). Each episode features an unusual mystery and a special guest, starting with Naoto Takenaka.
Other Cast: Kyo Nobuo, Kazuma Kawahara
Official Site:
http://www.ntv.co.jp/ikesoba/
NHK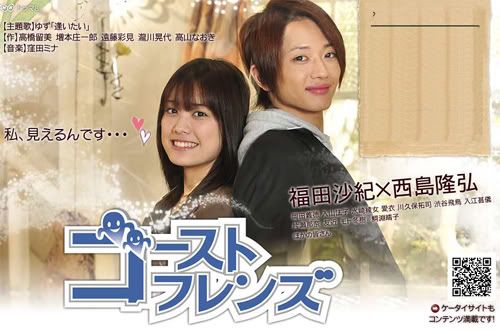 Ghost Friends (ゴーストフレンズ)
NHK, Thursday 8:00pm, premieres April 2
Ghost Friends is a cute, comical, and slightly scary drama about a high school girl named Asuka (Saki Fukuda), who begins to see ghosts after being involved in a traffic accident. Asuka realizes these ghosts have regrets and unfulfilled wishes, so she begins working towards granting their wishes. One day, Asuka meets Kaito (Takahiro Nishijima), who shares the same power. Asuka becomes curious about his mysterious atmosphere, and it turns out that he is a ghost in human form. Kaito came to the human world chasing after his girl friend Misora (Noriko Iriyama), another ghost who ran away and entered the human world. As Asuka helps Kaito in his search, she gradually falls in love with him. Through the interactions between Asuka and the ghosts, this comedy depicts one girl's experiences of love, friendship, and family.
Other Cast: Nana Katase, Megumi Nakayama, Yoshinori Okada, Jingi Irie, Tomochika
Official Site:
http://www.nhk.or.jp/drama8/ghostfriends/
Konkatsu Rikatsu (コンカツ・リカツ)
NHK, Friday 10:00pm, premieres April 3
This drama is a story about women in their 30s to 40s, reflecting their current lifestyles. Nanami Machida (Sachiko Sakurai) realizes she is 39 years old, and even though she doesn't want to marry, she feels the need to get married and establish a family. On the other hand, Rikako Kudo (Misa Shimizu) had happiness until 39 years old, and finds herself having to divorce even though she does not want to. These two, who have been classmates since elementary school, hold different values and personalities. But as the questions of marriage and divorce arise, they both are searching for the true meaning of love.
Other Cast: Sayuri Kokusho, Keiko Matsuzaka, Maimi Okuwa
Official Site:
http://www.nhk.or.jp/kindora/konkatsu/
Kagero no Tsuji 3 (陽炎の辻3-居眠り磐音 江戸双紙)
NHK, Saturday 7:30pm, premieres April 18
The jidaigeki series "Kagero no Tsuji" is back for a third season. Koji Yamamoto reprises his role as Iwane Sakazaki, a warm-hearted and righteous man who has been living as a ronin in Edo since leaving his home five years ago. Sakazaki deals not only with the problems surrounding him in the city, but also with his own personal troubles, including his former fiancee Nao (Yuko Fueki) and his contested promise of marriage to Okon (Noriko Nakagoshi).
Other Cast: Takashi Ukaji, Ikkei Watanabe, Hiromi Kitagawa, Sei Hiraizumi, Yosuke Kawamura
Official Site:
http://www.nhk.or.jp/jidaigeki/kagerou3/
Harukanaru Kizuna (遥かなる絆)
NHK, Saturday 9:00pm, premieres April 18
In 1970, before there was public awareness of the phenomenon of "Japanese war-displaced orphans in China," one young man (Gregory Wong) from China arrived at Haneda Airport. After 25 years, he was finally able to reunite with his true parents. But even though he returned to his native Japan, a difficult and challenging life awaited him. Many years later, his daughter (Anne Suzuki) decides to study abroad in China, where she begins to learn about the life her father led there. She traces his struggles and his footsteps between the two countries, and in the process learns an important message. This drama portrays the bonds of fate that transcended borders and generations, as seen through the daughter's eyes.
Other Cast: Kenichi Kato, Aiko Morish*ta, Megumi Sato, Hu Bing
Official Site:
http://www.nhk.or.jp/dodra/harukanaru/
Tsubasa (つばさ)
NHK, Monday-Saturday 8:15am, premieres March 30
Tsubasa Tamaki (Mikako Tabe) is 20-year-old junior college student in Kawagoe, Saitama. She lives with her grandmother (Kazuko Yoshiyuki), her father (Baijaku Nakamura), and younger brother (Satoshi Tomiura) at the long-standing confectionery that her family runs. Her mother (Atsuko Takahata), who left the house 10 years ago, still stops by once in a while, but the majority of the housework is done by Tsubasa, causing her to be known as "20-year-old mother." The series starts off with Tsubasa's mother coming back home and getting into a big argument with the grandmother. Meanwhile, Tsubasa becomes an assistant to the soccer team, where she reunites with a young man named Shota (Yu Koyanagi), leading to her first romance. However, with her mother stirring things up at the shop, Tsubasa has more than enough to deal with.
Other Cast: Mikako Tabe
Official Site:
http://www9.nhk.or.jp/asadora/tsubasa/
TV Tokyo
Yukemuri Sniper (湯けむりスナイパー)
TV Tokyo, Friday 12:12am, premieres April 3
Kenichi Endo stars as Gen (age and real name unknown), a retired assassin who now quietly works at the hot spring inn Tsubakiya in a remote area of Japan. Hoping to restart his life, he applied for the job after seeing an ad, claiming to be a middle-aged salaryman who just got laid off. He hides his past from the inn's beautiful proprietress (Yuko Ito) and veteran clerk (Denden), as well as the rest of the people around him. These include a once-famous stripper named Tomoyo (Nobue Iketani), a hostess bar owner (Miyuki Matsuda), and Q, the only man who knows Gen's past (Hiroyuki Nagato). Surrounded by this unusual cast, Gen is constantly tangled up in various troubles at Tsubakiya.
Other Cast: Momoko Tani, Miku Ono
Official Site:
http://www.tv-tokyo.co.jp/yukemuri/
Mama wa Newhalf (ママはニューハーフ)
TV Tokyo, Weekdays 1:00pm, premieres April 6
Iwataro (Noboru Kaneko) is a handsome, elite salaryman, but he also happens to be a "newhalf," or transsexual. Five years ago, he quit his company and started a new life as "Luna" among the newhalf community, quickly becoming the number-one hostess at a nightclub. Iwataro enjoys living his life freely, but his family back in Kagoshima has no clue about his new identity. One day, a 5-year-old boy named Kiyoto (Tatsuya Kose) suddenly becomes part of his life, as Iwataro takes on the responsibility of raising the young child. "Mama wa Newhalf" is about the two of these characters living together, experiencing both tears and laughter among the newhalf community.
Other Cast: Chiaki Hara, Nana Ogawa, Daisuke Shima, Atsushi Fukazawa, Noemi Takayama, Asami Abe
Official Site:
http://www.tv-tokyo.co.jp/mama/
- - - - - - - - - - - -- -
I'm looking forward to: Atashinchi no Danshi (with Maki), Smile (with Yui Aragaki and Jun Matsumoto), Ghost Friends, Majo Saiban (with Toma Ituka), Konkatsu (with KAT-TUN's Tatsuya Ueda), and Meitantei no Okite...