Source:
UDN
Translation: Sarah @
http://asianfanatics.net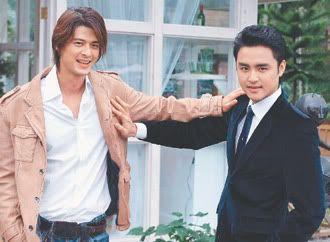 Ming Dao

knocks on new door; enters GTV to promote new drama
Yesterday, Ming Dao headed straight to rival GTV's '100% Entertainment' to promote his new drama 'Knock Knock Loving You/Quietly Falling In Love With You.' Before recording officially began, Ming Dao tried out the microphone, and purposely joked: "123, 123, I am SETTV's Ming Dao, thank you GTV staff," causing bursts of laughter.
Ming Dao is SETTV's man, but to promote his new drama 'Quietly Falling In Love You' which will air on CTS and GTV, yesterday he entered GTV's recording studio for the very first time. Coincidentally, host Show Luo (Xiao Zhu), who is also an idol drama big brother was not present. GTV said that he had gone to New York to learn dancing, and has requested for 2 weeks leave..
Not only was Xiao Zhu absent, Coco Jiang, who plays Ming Dao's younger sister in the drama was also not present. According to sources, she will also not be present at the premiere later tonight. Staff members revealed that it was because Coco had accepted an event in China, Gui Zhou, hence unable to co-operate with promotions.
Ming Dao is quite tall, and his face isn't too big, but standing beside Dylan Kuo, he became 'everyday' (short & low) and he looked quite meaty. Earlier, paparazzi snapped photos of him attending Dong Nan university, and the school hopes in the future, he won't disclose anymore info to the media.