Credits: o-cha +
coolsmurf @allkpop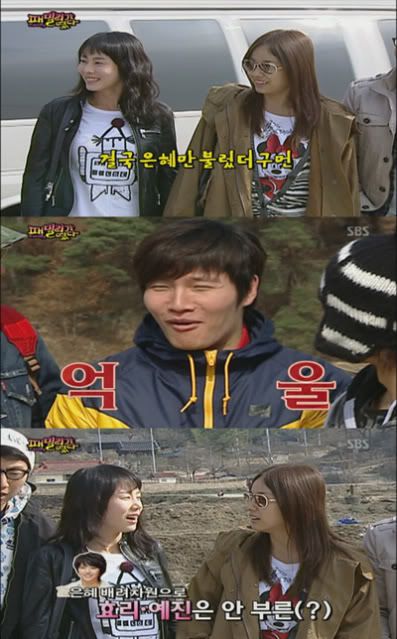 Yoon Eun Hye

Seemingly on

Family Outing
Even though Yoon Eun Hye has never appeared on SBS Family Outing, it's like she is on the show anyway. The frequency of her name being mentioned has increased since Kim Jong Kook's participation as a permanent family member. It has gotten to be like a ritual in recent weeks thanks to continuous fabrication of love scandal rumors between Kim Jong Kook, Park Ye Jin and Lee Hyori by Dumb and Dumber duo, Yoo Jae Suk and Daesung especially.
Yoon Eun Hye's name cropped up again in the 5th April episode of Family Outing. As soon as Kim Jong Kook arrived in Sungjoo village, Kyungbuk, the family members said, "Yoon Eun Hye came to Kim Jong Kook's concert last time", and "Why weren't we mentioned?". To which Kim Jong Kook replied, "There were other celebrities who came too", to clear the situation but it didn't make Lee Hyo Ri nor Park Ye Jin feel any better.
During the game of holding a full water bucket over the head, Park Ye Jin herself asked Kim Jong Kook with annoyance, "I'm not Yoon Eun Hye but can you lend me your waterproof jacket for a while?". Seeing Park Ye Jin in his clothes, Kim Jong Kook said, "Cute". Afterwards the other family members started spreading words on the fake scandal and Kim Jong Kook said, "I'm saying that the clothes were cute." Park Ye Jin then turned to him in anger, "It wasn't me but the clothes then? No matter what I do, only Yoon Eun Hye would do?", adding to Jong Kook's exasperation.
The day's guest family member, Kim Won Hee also joked around, "If I were Yoon Eun Hye, who would you lend your jacket to between Park Ye Jin and me?", as everyone burst into laughter. Park Ye Jin then replied, "I don't want to know his choice." The resolute Kim Won Hee then asked, "Are you afraid to know the result?"
Later on, Won Hee teased Jong Kook about lending Ye Jin his jacket, "I'm Kim Eun Hye. Lend me your clothes too", and brought much laughter with what she said.