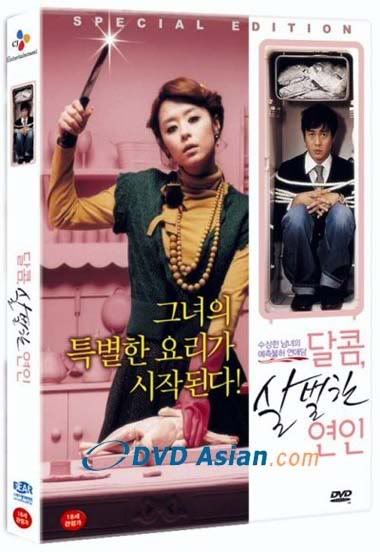 Title: My Sweet, Yet Brutal Sweetheart
Released: 2006
Director: Son Jae Gon
Producer: Cha Seung Jae, Kim Jeong Ho, Kim Mi Hee
Casts:
Park Yong Woo
Choi Kang Hee
Cho Eun Ji
Jeong Kyeong Ho
Lee Hee Do
Jo Yeong Gyoo
Seon Woo Seon
Kim Gi Cheon
Synopsis:
A timid college lecturer, Dae-woo, who is smart but has never been in love, meets a mysterious but charming woman, Mi-na. With no skills to win a date, he asks her out awkwardly. To his surprise, she accepts. And as a first time lover, he behaves very unnaturally. However, as they fall in love, Dae-woo discovers some disquieting things about Mi-na. Although she claims to be an intellectual and an artist, she has never heard of Crime and Punishment, nor has she heard of Mondrian although one of his paintings hangs in her living room. But Mi-na has even more terrible secrets.
These seemingly unmatchable ingredients produce hilarious jokes in "My Scary Girl (Talkom, Salbolhan Yonin)".
At a glance, the movie tries to tell a cliche love story between a naive man and attractive woman, but soon it enjoys a sudden ride of twists and parodies on conventions and formulas too often used in many romantic comedies.
Directed by Son Jae-gon, the movie revolves around Hwang Dae-woo (played by Park Yong-woo), a man in his early 30s, who becomes desperate to find a girl to go out with. He has never been in a relationship with a girl.
He is handsome and has a decent job as an English literature professor at university, but the problem is he is cranky, rational _ not the type for romances with the opposite sex.
But things change when Lee Mi-na (by Choi Kang-hee) moves into the downstairs apartment, and he bravely asks her out. He is so clumsy at dating that he has to practice telling jokes, but keeps bungling them. But Mi-na becomes attracted to him as she can see the sincerity and kindness hidden deep in his heart.
Although she says she plans to go to Italy to continue her art degree, she doesn't know who Piet Mondrian is, whose work hangs on her bedroom wall.
Strange men keep visiting her. She goes out at night carrying a huge bag and spade, and returns home with her pants dirty. What should Hwang do? Should he give up his once-in-lifetime chance to have a girlfriend because of her secrecy?
+credits to dvdasian+