Source : AD
Translated by : jastan87 of CEFC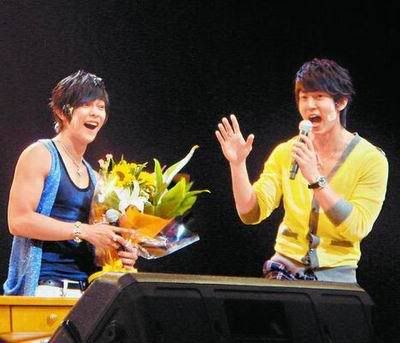 Wu Zun

DIY Happily in Tokyo, puts cream on

Jiro Wang
"On every Valentine's Day, especially wish to have a partner."
On the fans meeting in Tokyo the night before, Wu Zun gave Jiro Wang (Da Dong) and Danson Tang a birthday surprise, and even played with Jiro rubbing cream on each other, but the 2 birthday boys were surprise and touched that they cried, the 2 wished to have girlfriends, although Wu Zun was not the birthday star but he who was rumoured with Ella and Ariel Lin made a wish too, "I also wish, hopefully I can find another half who can share my happiness and sadness."
Wu Zun, Jiro Wang and Danson Tang held 2 fans meeting at Tokyo's U-PORT the day before to promote GTV's 'Hana Kimi' DVD, the 3 of them express their love to female fans and the lucky fans were so touched that they cried. Wu Zun who is 28 years old said that he once wished to get married before 35 years old, the day before he said, "If I meet her, I will tell her, "I will try my best to give you a lifetime of happiness"."
The highlights of the fans meeting the day before was when Wu Zun suddenly pushed out the birthday cake to help Jiro Wang celebrate his 27th birthday who was on 24 August and Danson Tang who will celebrate his 24th birthday tomorrow, Jiro Wang said with tears in his eyes, "I hope that for my birthday every year, my mum would be the first person to celebrate with me."
Danson Tang who also lives with his mum was also choked by his tears until he can't talk, Jiro Wang smoothen the sad feel and took cream from the cake to smear on the other 2.
After the meeting, Danson Tang said that he hoped to find a smart girl who can make him happy, with brains and not only know how to dress herself, Jiro Wang also said, "On every Valentine's day, especially wish to have a partner." Wu Zun who also wish to look for girlfriend said, "Fans nowadays actually don't mind idols getting girlfriends, just hope that idols will be happy."
Jiro Wang and Danson Tang once had partners who let them thought of marriage, but sadly in the end it ended with breaking up, Jiro Wang said, "I hope to find someone who will let me look after her for a lifetime at 30 years old." Danson Tang once said to his school beauty girlfriend at his high school graduation, "Marry Me!" However when she went to university she was snatched away.
Note: Please credit jastan87 of CEFC for translation of article and do not edit any parts of this article. Please quote this translated article (including this note) in its entirety. Thank you for your co-operation.